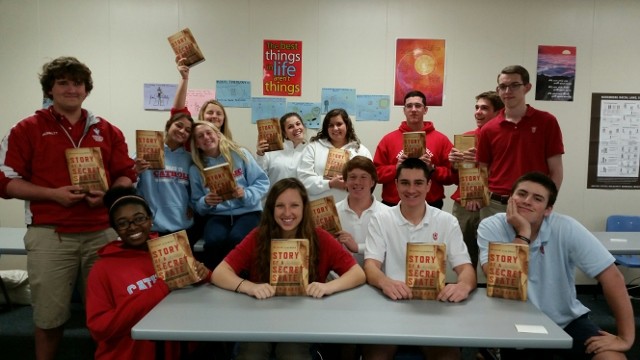 Charlotte Catholic High School students show off the copies of Karski's book donated by the Jan Karski Edcational Foundation (Photo: Donna M. Tarney)
The Jan Karski Educational Foundation has recently donated copies of Jan Karski's Story of a Secret State to Charlotte Catholic High School in Charlotte, NC, whose students were introduced to this captivating war-time memoir by the CCHS's teacher Ms. Donna M. Tarney during a Holocaust class. Here is an account of the reading experience by one of her students, Anton Bennett (Class of 2016).
"We read selections from the book Story of a Secret State by Jan Karski in our Holocaust class this year. We read the book to give us glimpse into the life of a member of the Polish underground during WWII.  The book helped expand the Holocaust class because it talked about how the war started in Poland and what happened to the Polish Military, Polish people, and the Polish Jews. Mr. Karski talked about so many little parts of life that we did not get to hear about in the rest of the class. The way he described the different types of Volksdeutsch and how the Underground dealt with them was very interesting. Our class was amazed to hear about the complicated journeys and the dangers that Mr. Karski went through during the war. I felt so bad for Mr. Karski when I found out that President Roosevelt would not help him stop the killing of the Jewish people. I didn't know that our president knew so much about what was happening in Poland.
I enjoyed the book. I thought it was fact filled and very entertaining. I did think some parts of the book were difficult. When Mr. Karski was explaining the politics of the Underground I felt completely lost. I think this would be very good in a politics class, however. This was one of the best books I read about the Holocaust because of how real it felt and how interesting it was. The discussions we had in class helped me to learn more and more about the ways the Polish fought back against the Nazis to keep their pride and their Polish identity. In conclusion the book was a great tool for a Holocaust class and a very interesting book to read."
Please forward this testimony to other Social Studies teachers and ask them to include this fascinating book in their curriculum. They can contact us at info@jankarski.net to arrange for a donation. Please see the lesson plan prepared by Ms. Tarney and visit the "For Educators" section on our website for additional educational resources.