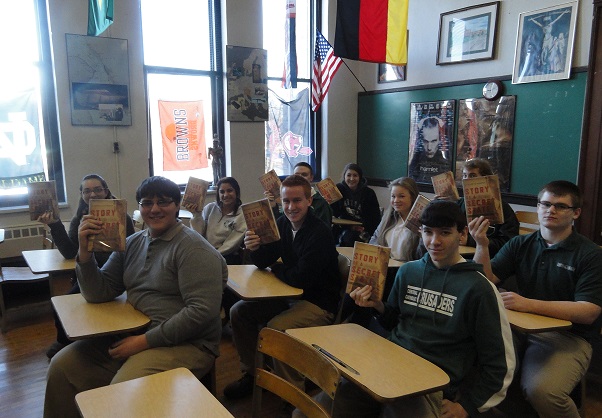 Lists of questions for students and teachers is shown below that can be used when teaching about Karski's life and legacy, as well as Karski's book "Story of a Secret State."   
Questions for students:
If  you wanted to encourage a friend to read the book, what would you say to convince him/her?
What is your favorite quote/scene from the book? Please briefly explain why.
What surprised you most when you were reading the book? Name at least 3 things.
What were the most moving moments for you?
Share three important things you have learned from the reading/lessons. Try to be as specific as you can.
How was Karski different from other heroes you know about?
How would you relate Karski's story to current world events?
 
Questions for teachers:
What made you decide to use the teaching resources on Jan Karski (a lesson, a short assignment, in-class activity, extracurricular educational project, etc.)?
What was the biggest challenge when teaching about Jan Karski/analyzing the book with your students? How did you deal with it?
What do you consider the most significant teaching moment that you are proud of?
What parts of the resources on the jankarski.net website have you found helpful? What can be improved?
What good practices would you share with other teachers who consider teaching about Karski/analyzing his book?
Will you use Karski's book and the resources again with new students? Why or why not?
What motivates you to teach about Karski and his book?
What lasting impressions has this book made on your students?
Do you think that your students will be more tolerant of a diverse set of people as a result of reading and discussing this book? 
These questions have been adapted from those composed by teacher/scholar/researcher Malgorzata Bakalarz-Duverger of The New School for Social Research in New York. Further information about her is available at at the New School's website.
For additional lesson plan ideas, visit the Karski Educational Packet.
Additional student questions are found on the US Holocaust Memorial Museum website:
What pressures and motivations may have guided Jan Karski in his choices to investigate and to alert other countries?
How did senior officials in Britain and the United States respond to his information?
What risks did Karski face as he considered alerting western governments about mass murders?
What risks to do contemporary journalists or officials face in considering alerting the world about mass murder?
Educators and others: If you have additional ideas about teaching about Karski, his legacy and the broader definition of heroism and courage, please send them to us @ info@jankarski.net. And, if your students have answered the questions above in a creative way, we'd love to hear their answers and about your experience.