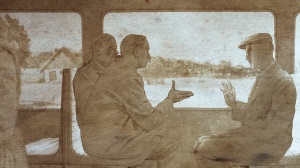 As a supporter of the film "Karski & The Lords of Humanity," the Jan Karski Educational Foundation is proud to offer the DVD of the film for purchase for educational purposes. The glowing reviews of this film speak volumes about its powerful themes of tolerance and the courage of Jan Karski and his place in history.
To see for yourself, watch the trailer. 
This acclaimed film by Emmy award winner documentary filmmaker Slawomir Grunberg – which has been shown from Russia, Israel, South Africa to Europe to the United States – is available to educators.
The distributor, LOGTV, is offering the DVD at an Educational price of $250, or less for private use. The shipping cost in the US is $6, or $12 for international shipping. There are also discounts sometimes available on their website.
Educational DVDs come with Public Performance Rights (PPR), which permit screenings in a classroom, church, museum, synagogue or library for educational closed circuit only purposes. Other presentations, which are open to public are not part of PPR and require permission from LOGTV, Ltd and the license fee. See more details on the LOGTV site.
Thus, schools or other organizations who purchase the DVD can use it for all of their classes or audiences, year after year. It will be a compelling addition to any education-oriented library.
To buy the DVD in the US/Canadian version, go to the LOGTV website and place an order. 
Each box has both an English and a Polish version of the film (with English subtitles). In addition to the two films, there is a trailer on each DVD. 
The Educational DVD can be ordered in the NTSC format, for viewing in region 1 (the USA and Canada). To purchase the European (PAL) version, the standard for region 2, please email the distributor, LOGTV at grunberg@logtv.com. 
As an alternative, the video is also available for purchase in HD streaming on Vimeo on Demand.  The same pricing applies for this option and streaming access is good for two years.