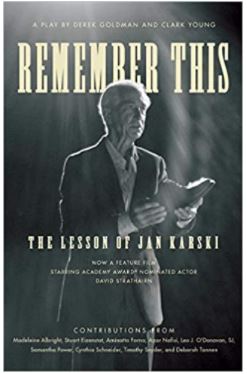 The script of the acclaimed stage play Remember This: The Lesson of Jan Karski, illustrated with stills from the black-and-white film based on the theater production, is now available on Amazon.com.
"In a tour-de-force, solo performance, Academy Award nominee David Strathairn (Good Night and Good Luck, Lincoln, Nomadland) portrays World War II hero and Holocaust witness Jan Karski, a messenger of truth who risked his life to carry his harrowing report from war-torn Poland to the Allied Nations and, ultimately, the White House, only to be ignored and disbelieved. Escaping the clutches of the Nazis, bearing witness to the despair of the Warsaw ghetto, and standing tall in the halls of power, Strathairn captures the remarkable life of this self-described "insignificant, little man" whose forgotten story of moral courage and individual responsibility can still shake the conscience of the world." (From the Laboratory for Global Performance and Politics' website.)
The text of the stage play is accompanied by essays and conversations with the following prominent diplomats, scholars, and artists, who weigh on the Karski legacy: Secretary of State Madeleine Albright, Ambassador Stuart Eizenstat, award-winning author Aminatta Forna, best-selling author Azar Nafisi, President Emeritus of Georgetown Leo J. O'Donovan, SJ, Ambassador Samantha Power, Ambassador Cynthia P. Schneider, historian Timothy Snyder, Academy Award-nominated actor David Strathairn, and best-selling author Deborah Tannen.
Co-written by Clark Young and Derek Goldman, who has also directed the stage production, the play has just resumed its presentations after the pandemic-induced hiatus, with shows in Washington, D.C., and Chicago. There are also plans to present it in other cities, including Warsaw, Poland, next year. The tour is organized by the Laboratory for Global Performance and Politics at Georgetown University with the support of the Jan Karski Educational Foundation.
The script is available in paperback and Kindle editions.
Please remember that you can support the Jan Karski Educational Foundation by making a purchase through AmazonSmile.