SPIRIT OF JAN KARSKI AWARD
The Jan Karski Educational Foundation presents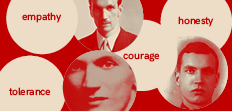 the Spirit of Jan Karski Award to individuals  who, through their actions, have demonstrated the values represented by Jan Karski. We recognize those who have distinguished themselves by defending human rights and dignity, by speaking out against racism and injustice.
WE ARE LOOKING FOR A MODERN KARSKI
There are people among us who, especially during this challenging pandemic, follow Karski's path of social solidarity and everyday heroism. We want to honor people who have demonstrated exceptionally high standards of integrity, courage, and dedication in the areas of community service, social activism, and innovation in public service. The Award will be presented in two categories:
Spirit of Jan Karski Award
Karski Youth Award 2020
The Nomination Committee appointed by the Jan Karski Educational Foundation is entrusted with nominating the candidates. In addition, the sister organization Fundacja Edukacyjna Jana Karskiego (FEJK) is accepting nominations from organizations and individuals in Poland for the Karski Youth Award 2020 only. The deadline is January 21, 2021. Please contact FEJK directly at kontakt@jankarski.net.
Spirit of Jan Karski Award – Members of the Nomination Committee spirit-of-jan-karski-award-nomination-committee.pdf
Terms and Conditions document spirit-of-jan-karski-award-terms-conditions-revised-11-24-20.pdf
The award ceremony is tentatively scheduled for March 19, 2021, and is to be held in Warsaw, Poland.
We invite you to support the Spirit of Jan Karski Youth Award through a crowdfunding campaign. Please click this link to donate. Note: The crowdfunding site text is in Polish.
Previous honorees include:
2019: Peter F. Krogh, Georgetown University's distinguished Professor Emeritus and former Dean of the School of Foreign Service, as well as friend, boss and mentee of Jan Karski.
2016: Nicholas Kristof, The New York Times columnist and two-time Pulitzer Prize-winner, for his unflagging efforts to draw public attention to humanitarian issues around the world through his passionate reporting and powerful writing.
2014: U.S. Senator John McCain – for his courageous leadership and willingness to speak truth to power about international acts of aggression.
2013: Samantha Power, US Permanent Representative to the United Nations – for exemplary work in advancing the issue of genocide prevention. 
2012: Ewa Junczyk-Ziomecka, former Consul General of the Republic of Poland in New York – for pioneering work in promoting improved relations between the Polish Catholic and Jewish communities worldwide.