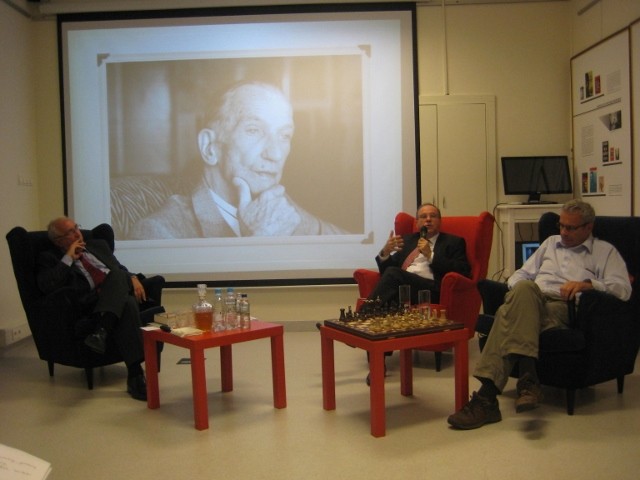 Stradom Center for Dialogue - Prof Skotnicki, the Ambassador of Israel to Poland and Ambassador Maciej Kozlowski (photo by Bozena U. Zaremba)
The former Ambassador of the Republic of Poland to Israel Maciej Kozlowski and Israel's Ambassador to Poland Zvi Rav-Ner remembered Jan Karski during a panel discussion organized by the Stradom Center for Dialogue in Krakow, Poland on June 30. This meeting was part of Karski Days, an initiative of the Polish History Museum in Warsaw to celebrate the centennial of Karski's birth throughout the nation.
Aleksander Skotnicki, M.D., President of the Stradom Center for Dialogue, hosted the meeting and introduced Ewa Wierzynska of the Polish History Museum and Board member of the Jan Karski Educational Foundation. Ms. Wierzynska discussed the exhibition, "The World Knew: Jan Karski's Mission for Humanity," which was on display at the Center.
Television and print journalist Maciej Wierzynski, who recently published his interviews with Karski (originally conducted for Voice of America in 1990s) in book form, also shared insights about Karski. Wierzynski highlighted the main traits of Karski's personality: humility, sincerity, righteousness, integrity and a winning sense of humor. Quoting heavily from his book, Wierzynski emphasized that Karski never wanted to take credit for his mission – he was carrying out orders from the Polish Underground authorities and doing things he considered right. He pointed to the literary qualities of Karski's accounts and described him as an excellent story teller.
Ewa Wierzynska concluded the meeting with the statement that Karski was above all divisions, whether political, ethnic or social. "He can never be pigeonholed," she said. 
Among those in attendance was Karol Badyna, the sculptor of the famed Jan Karski benches. Badyna's most recent bench has been temporarily placed at the entrance to the Stradom Center for Dialogue to accompany Karski Days, and it provided a most fitting backdrop for the session.