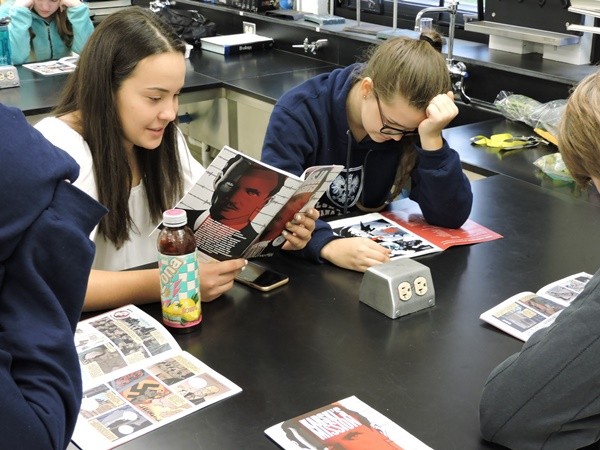 Jan Karski Polish School students reading "Karski's Mission: to Stop the Holocaust" (Photo: Marek Adamczyk)
Palos Hills, IL – The Jan Karski Polish School in Palos Hills, Illinois is one of several schools in the US and Poland that bear the name of the famous Polish emissary. Jan Karski risked his life to carry classified information about the ongoing slaughter of Polish citizens, especially the tragic fate of Polish Jews, from Nazi Germany occupied Poland to the Allied leaders in France, England and the US. His integrity, moral stamina and honorable efforts make him a perfect model for young people. Recently the graphic novel Karski's Mission: to Stop the Holocaust has been added to the Jan Karski Polish School curriculum thanks to the Jan Karski Educational Foundation, which has donated copies of its Polish language version (Misja Karskiego: Zatrzymać Holokaust) to the School. Students of the Jan Karski School (aged 15-18), whose main goal is to cultivate their Polish heritage, read the book with keen interest and have shared their comments with us. Here are excerpts of their comments:
"Thanks to this publication, I learned a lot of important information about Jan Karski. I learned what an important role he played in World War II and how he risked his life to help others. Jan Karski was ready to give his life so that the Germans wouldn't kill more Polish citizens. Jan Karski is a role model for all Poles."— Agata Gebala
"The comic about Jan Karski was very interesting and taught me about his mission. It possessed a lot of information about not only Karski himself, but also the Polish history during World War II. The illustrations had good details that helped to picture what was going on during his life. His mission was a very tough one, causing him to go through a lot of torture and sadly in his eyes he didn't succeed. I think that today people should look up to him and thank him for his attempts to save millions of innocent people."— Susan Zarebczan
"The comic novel Karski's Mission by Rafael Medoff and Dean Motter is filled with adventure scenes. It describes Jan Karski's mission to deliver news against the Nazis. The drawings and descriptions both set good visuals for the readers and keep them engaged and wanting to read more."— Przemysław Kowalski
"Thanks to this comic book I learned more about Jan Karski. I learned about his family where he was born and how he served our country."— Zosia Rojszyk
"Karski's Mission. To Stop the Holocaust is very interesting and contains a lot of interesting information. The graphic designs are very well done. When I was reading this, I wanted to keep reading it."— Konrad Palenik
"This comic book helped me understand more what Jan Karski wanted to achieve and what type of person he was."— Kamila Bucko
"The comic Karski's Mission talks about his mission and the struggles he had to go through. The comic also shows me that illustration is key for comics to better understand what the scene is and what is happening in the story. Karski had a photographic memory which helped because he did not have to carry the documentation and made his mission less dangerous. He was very interested in seeing the truth and wanted to fix the problem."— Sylvia Mrowca
"The comic story Karski's Mission was very action-packed and very entertaining to read. The story had a lot of details about Jan Karski's story. It has many captivating pictures and many attention-getting phrases."— Gabriela Szkoda
"Thanks to this book, I learned many things about the life of Jan Karski. For example, where he was born and about his family. I learned what role he played during World War II. The illustrations helped me understand more about Karski."— Karolina Talaga
"This beautiful story is about Karski, whose mission was to bring awareness to the fact that Hitler and his army were killing Jews. His mission failed because no one believed him, so his dream of saving at least someone failed."— Adam Janiak
"Karski's Mission: to Stop the Holocaust has very important and interesting information. The pictures are very creative and the information helped me understand who Jan Karski actually was."— Matthew Blacha
On the occasion of introducing the graphic novel to the curriculum, the Jan Karski Polish School hosted Ms. Joanna Bielobradek, a poet and writer, whose work focuses on Jewish themes as well Pope John Paul II, to tell the students about her short acquaintance with Karski, who once came to her reading. She talked about Karski's life in Poland before WWII, stressing his comprehensive education. She eloquently examined the influence of Karski's teachers on his personality and his future fate. Ms. Bielobradek also discussed Polish-Jewish relations during WWII and pointed out that Karski fought against ant-Semitism both during and after the war.
Excerpts have been slightly edited for clarity.