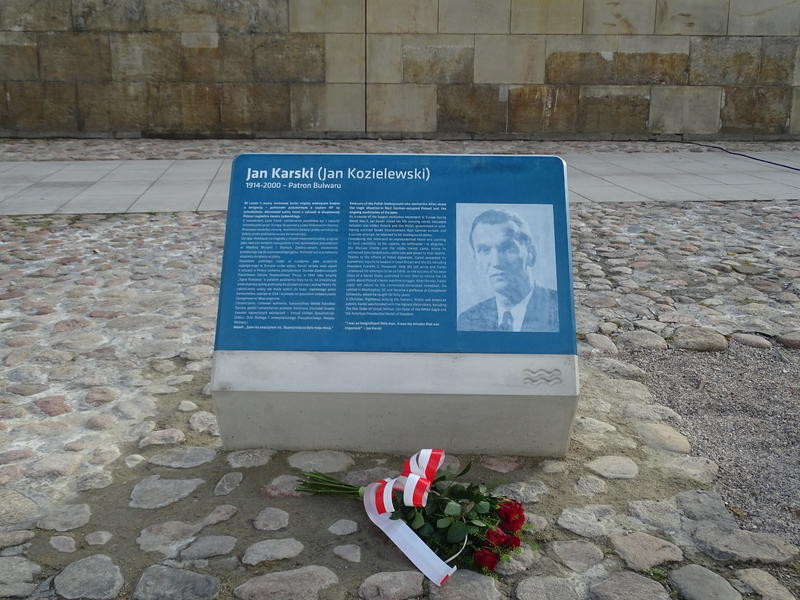 Commemorative plaque with information about Jan Karski in Polish and English (Photo: Antoni Szczepański)
Warsaw, Poland – A commemorative bilingual plaque with information about Jan Karski was unveiled at Warsaw's Jan Karski Boulevard on June 23 by the President of the City of Warsaw Hanna Gronkiewicz-Waltz and the President of Fundacja Edukacyjna Jana Karskiego (Jan Karski Educational Foundation's sister organization) Ewa Junczyk-Ziomecka. They were accompanied by Marian Turski, Vice-President of the Association of the Jewish Historical Institute of Poland, and Roman Kent, President of the International Auschwitz Committee. The ceremony gathered many notable guests, including Michael Schudric, Chief Rabbi of Poland; Adam Daniel Rotfeld,* former Minister of Foreign Affairs of the Republic of Poland; Inka Sobolewska, President of the Association "Children of the Holocaust in Poland"; Dorota Keller, Deputy Director of the Museum of the History of Polish Jews POLIN; Maciej Kozłowski, former Ambassador of the Republic of Poland to Israel; Ewa Wierzyńska, member of the Board of Directors of the Jan Karski Educational Foundation; and Maria Dzieduszycka, President of the Zbigniew Herbert Foundation. Several students from the Jan Karski School No. 42 in Warsaw also attended the ceremony.
The ceremony was an excellent opportunity to refresh the memory of its participants about Jan Karski, his connections with Warsaw, and the current implications of his legacy. The commemorative plaque at the Karski Blvd. – along the Karski bench at the Museum of the History of Polish Jews, and the stone and tree at the Garden of the Righteous – is the twelfth point on the map of the capital city map associated with Karski.
The ceremony, which was attended by dozens of Jan Karski supporters and fans, as well as citizens of the city of Warsaw, was widely commented on in the Polish media.
*Adam Rotfeld accepted the Presidential Medal of Freedom bestowed upon Karski by President Barack Obama in 2012 on Karski's behalf.