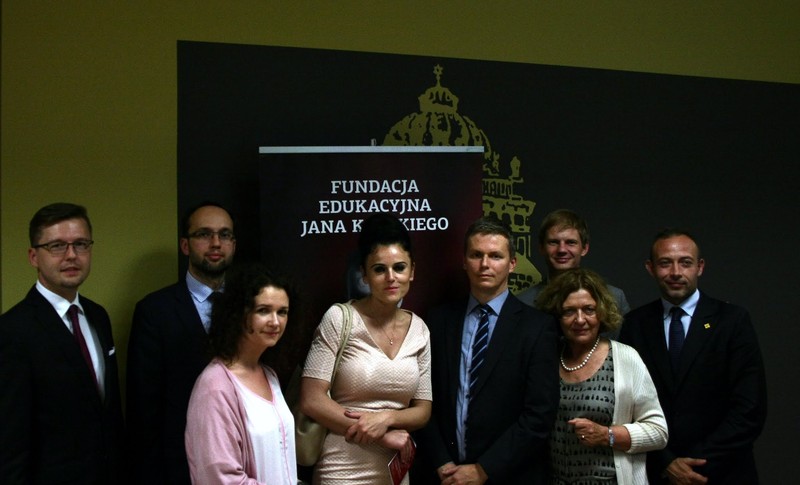 Recipients of the GLS scholarship and FEJK President Ewa Junczyk-Ziomecka. From the left: Andrzej Fąfara, Rafał Siemianowski, Agnieszka Bieńczyk-Missala, Magdalena Brzozowska, Piotr Zygadło, Błażej Moder, Ewa Junczyk-Ziomecka and Szymon Pawlak. (Photo: Antoni Szczepański)
Magdalena Brzozowska and Piotr Zygadło have been selected to receive the scholarship funded annually by the Jan Karski Educational Foundation to participate in the 2017 Georgetown Leadership Seminar. The announcement was made on August 31 in Warsaw, during the "Karski for Leaders" meeting organized by Fundacja Edukacyjna Jana Karskiego, JKEF's sister organization in Warsaw. The meeting, which gathered recipients of the GLS scholarship from previous years, was attended by representatives of the administration of the City of Warsaw, a JKEF Board member, as well as numerous Karski supporters.
During her introductory comments, President of Fundacja Edukacyjna Jana Karskiego Ewa Junczyk-Ziomecka remarked that GLS participants represent Jan Karski's legacy in their professional life and in their community service, and that acting in the spirit of Jan Karski's values "requires replacing egoism with empathy, and fear with courage." She emphasized that the Karski legacy entails responsibility for lawyers, scholars, and politicians to guard the law which protects basic freedoms, does not allow for genocide, war crimes, or any violation of human dignity. "A leader does not look away, when the weak are in peril," she said.
Magdalena Brzozowska is a human rights lawyer. Since 2001, she has been working at the Polish Ministry of Justice in the Department of International Cooperation as a Chief Specialist for Procedures before the European Court of Human Rights in Strasburg. In the past, she worked as a Rule of Law advisor in Afghanistan within the NATO International Assistance Security Forces Operation. She cooperated with local authorities on implementing the Rule of Law reforms. She was also involved in the improvement of women's conditions, fighting on behalf of those unjustifiably imprisoned in Afghanistan in connection with the so-called moral offenses. She holds an MA degree from the University of Warsaw, where she studied law at the Law and Administration Faculty, Institute of Criminal Law, Cathedral of Comparative Law. In 2011, she was conferred with the Brown Cross of Merit, one if the highest civilian awards in Poland. Ms. Brzozowska considers Professor Karski "a moral aristocrat. He is an undisputed authority."
Piotr Józef Zygadło, PhD, is an economist and expert on European studies and political science. He has been working as a high ranking civil servant for the Polish government since 2006. He is a graduate of the National School of Public Administration for prospective high ranking governmental civil servants (in the "Jan Nowak Jeziorański Class" of 2004-06, named after a famous writer, politician, and resistance fighter during WWII). He is a director of the Regional Operational Programs Department at the Ministry of Economic Development, having earlier worked as a deputy director of Coordination of European Funds Implementation Department at the Ministry of Development and Infrastructure. He is in charge of regional policy coordination, regional coordination of programming and implementation of EU Funds, and cooperation with local governments. He also coordinates implementation of Integrated Territorial Instruments. Mr. Zygadło holds an MA degree in political science from the Pedagogical University of Cracow and MA in European Studies from the Jagiellonian University in Cracow. He completed his doctoral studies in economics at the Warsaw School of Economics.
In a statement about Jan Karski, Dr. Zygadło wrote: "I admire Jan Karski, who for me is a model civil servant: brave, apolitical in fulfilling his tasks, able to sacrifice himself for his mission and for the values he believed in. What Karski derived these values from and what made him realize his mission to stir the conscience of the world, was the internal imperative of morality. The imperative results from the Catholic commandment of loving other people."
Please read the essays about Karski (required in the application process) written by the two scholarship winners:
essay-on-karski-legacy-by-magdalena-brzozowska.pdf
essay-on-karski-legacy-by-piotr-zygadło.pdf
The event also involved the presentation of a new app for smartphones "Jan Karski's Warsaw," which enables its users to walk around Warsaw in Karski's footsteps.
Founded in 1982, the Georgetown Leadership Seminar is the premier executive education program at Georgetown's School of Foreign Service, where Jan Karski served as a distinguished professor for 40 years. It brings rising leaders from around the world to the campus for a week of intensive discussion on major international issues. The GLS vision is to promote dialogue on global affairs among individuals who will help shape the future of their organizations and countries.