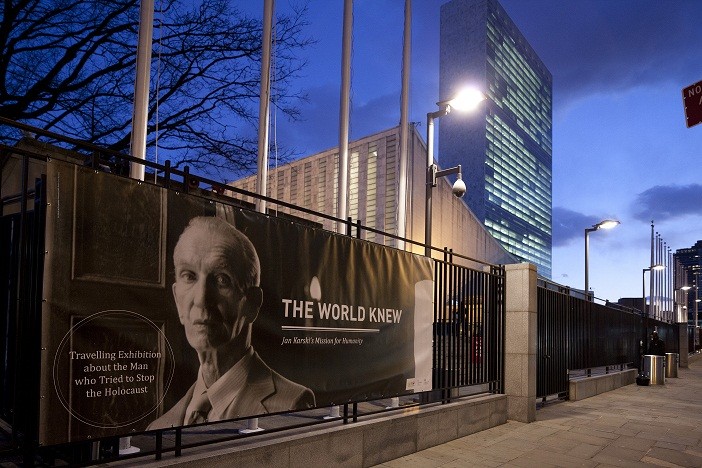 Banners outside the UN signal the exhibt
A new United Nations exhibit opened today that features Jan Karski and his mission, as part of the UN's commemoration of Holocaust Remembrance Events. This exhibit tells of the background of Jan Karski, a courier for the Polish Underground State who informed Allied leaders about Nazi Germany's ongoing extermination of the Jews. Karski was a Roman Catholic who later attained U.S. citizenship, taught at Georgetown University, and was named an honorary citizen of Israel and a Righteous Among the Nations. The exhibit has been produced by the Polish History Museum in partnership with the Ministry of Foreign Affairs of the Republic of Poland and the Jan Karski Educational Foundation and will be on view until February 15, 2013.

The Polish Consulate in New York has posted photos and a summary about the event at http://www.polishconsulateny.org/.

Here's a brief walk-through of part of the exhibit: www.jankarski.net/pliki_user/File/IMG_0481 (2).MOV, courtesy of Frank Rodriguez.

More details about the exhibit are located at the Polish Cultural Institute's website: http://www.polishculture-nyc.org/index.cfm?eventId=2047.
Photos below, from left to right: first row: Banners outside the UN signal the exhibt; part of the exhibit; Sigmund Rolat; second row: Wanda Urbanska, Robert Billingsley, Ewa Junczyk-Ziomecka, Bozena Nowicka McLees, and Ewa Wierzynska enjoying the exhibits; Ewa Wierzynska speaks at the opening; Ewa Wierzynska, Jerzy Onuch and Wojciech Białożyt; Permanent Representative to the UN from Poland Ryszard Sarkowicz; Harvey Schulweis at podium; third row: Consul General to New York Ewa Junczyk-Ziomecka; Usula Korn Selig; Peter Launsky-Tieffenthal, the UN's Under-Secretary for Communcations and Public Information  [most photos (c) David Goldfarb]