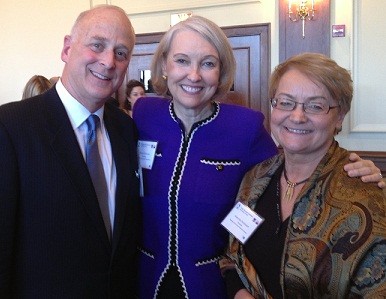 Allen Reich, Wanda Urbanska, Henryka Bochniarz
Her Excellency Beata Stelmach, Undersecretary of State at the Ministry of Foreign Affairs of Poland, declared to a sell-out audience at the Chicago Council on Global Affairs: "The word 'Poland' has become synonymous with success." Speaking in tag-team fashion along with His Excellency Ryszard Schnepf, Ambassador of the Republic of Poland to the United States, the two briefed the distinguished group on January 18 about Poland's economic prowess and its remarkable rise on the world stage.
 
"Today's economy is close to $1 trillion dollars," said Secretary Stelmach. "Last year's growth was 2.5 percent. And last year," she added, "Poland was ranked the second most desirable country in Europe with which to do business, Germany being No. 1."

Ambassador Schnepf discussed Poland's brilliant and now high-flying "brand", which has come back to life after little more than two decades of freedom, thanks to a number of factors including the "help of friends" like the United States. Motivated Polish companies are working overtime to return the favor. In 2007, there were almost no Polish investments in the United States, the ambassador pointed out. In 2011, Polish companies employed 10,000 US employees and the number is expected to grow.

Among the distinguished guests enjoying the luncheon of salmon salad and fruit tart were Dr. Henryka Bochniarz, president of Boeing for Central & Eastern Europe; foundation supporter and Loyola University alumnus, Leonard Slotkowski; Polish Consul General in Chicago Paulina Kapuscinska; attorney Louis Milicich; and Steve A. Dishler, Director of International Affairs for the Jewish Community Relations Council of Chicago.

Allen J. Reich, Chair of the International Relations Commission at the American Jewish Committee and an attorney at Seyfarth Shaw, introduced the guests, declaring, "The US has no better friend than Poland." The Jan Karski Educational Foundation was represented by Wanda Urbanska, president, board member, Bozena Nowicka McLees, and John McLees, attorney at Baker & McKenzie. After the presentation, Secretary Stelmach and Ambassador Schnepf were rushed by well-wishers, future tourists and those wishing to do business in Poland.

After the presentation, Alan Brody, a Chicagoan with Polish roots, declared, "I'm feeling more Polish right now!" He plans to visit the motherland for the first time this spring.
Photos left to right: Allen Reich, Wanda Urbanska, Henryka Bochniarz; Undersecretary of State Beata Stelmach with Polish Ambassador Ryszard Schnepf.