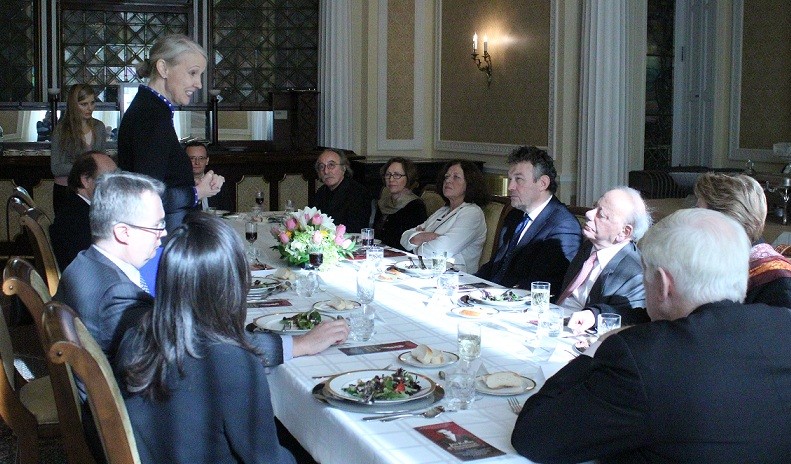 Wanda Urbanska addresses guests
Consul General Ewa Junczyk-Ziomecka hosted an elegant luncheon on January 23 at the Polish Consulate in New York to celebrate the opening of an exhibition the previous evening at the United Nations, "The World Knew: Jan Karski's Mission for Humanity."

Guest of honor was His Excellency, Ryszard Schnepf, Ambassador of Poland in the United States. Others in attendance were Ewa Wierzynska, Director of the International Legacy Program at the Polish History Museum in Warsaw; Wanda Urbanska, President of Jan Karski Educational Foundation; Foundation board members Michal Mrozek and Bozena Nowicka-McLees of Loyola University, Chicago; Judith Goldstein, Executive Director of Humanity in Action; Jan Karski US Centennial Campaign Steering Committee members, Sigmund Rolat, Robert Billingsley and Michael Berkowicz; Adelaida Palm, co-chairman of Georgetown's John Carroll Alumni Weekend in London 2013; Polish Cultural Institute Director Jerzy Onuch; along with Wojtek Bialozyt, executive director of the Foundation in Poland, and Maria Belka representing the Foundation.  

Consul Junczyk-Ziomecka welcomed guests by recounting the success of the Karski Campaign, starting with the inaugural launch dinner at the Consulate May 31, 2011 to the high moment of receiving the posthumous Presidential Medal of Freedom for Karski on May 29, 2012 at the White House. A series of speakers spoke with each new successive course over an elegant luncheon of salad, cucumber soup, chicken and kasza, and cheesecake. Wanda Urbanska showed off the galley of the upcoming Georgetown University edition of Story of a Secret State and discussed the Foundation's work to introduce Karski's book and legacy into curricula in America, starting in Chicago. Ewa Wierzynska discussed the educational materials she has developed at the Polish History Museum, including a teacher's educational package; the Google Cultural Institute's "virtual exhibition" about Karski; as well as the exhibition at the United Nations. Mrs. Wierzynska mentioned the enthusiastic support of the President of Poland Bronislaw Komorowski, the Polish Ministry of Foreign Affairs and Polish History Museum director Robert Kostro.

Robert Billingsley discussed his initiative to purchase copies of the book for every undergraduate at Georgetown University to be presented to the students over the course of the academic year 2013 - 2014. Ambassador Schnepf saluted the group for its success and discussed his first encounter with Karski in 1973 when he was a student at Warsaw University. He also announced his initiative to restore Jan Karski's tombstone in Washington DC while inviting a representative of the Foundation to join the honorary committee for this work. Over the final course, Mr. Mrozek spoke about his memories as a student studying under Dr. Karski, whom he considered to be a great and inspiring teacher and a role model.

After the official luncheon, the delegation left the warmth of the building to gather around the Karski bench on Jan Karski Corner and pay tribute to Dr. Karski with an offering of flowers and lit candles.
Photos, left to right: Foundation President Urbanska addresses the guests; Michael Berkowicz, Ewa Wierzynska, Consul Junczyk-Ziomecka, Ambassador Schnepf and Sigmund Rolat; Karski admirers at the Karski bench outside the Consulate  [all photos courtesy of Konrad Kars]