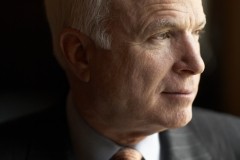 (Photo: www.johnmccain.com)
On August 25, we will be remembering late Senator John McCain on the first anniversary of his passing. We, at the Jan Karski Educational Foundation, will be bringing back memories of his marvelous acceptance remarks when he was receiving the Spirit of Jan Karski Award (click to read more and watch the video), bestowed upon him by the Foundation in 2014.
Senator McCain's family has come up with a brilliant initiative of celebrating his life and legacy by engaging in #ActsOfCivility. John McCain's "commitment to civility and serving causes greater than ourselves was unwavering and something we must not abandon without him," wrote Mrs. Cindy McCain in a letter announcing this initiative. She asks that people of goodwill get involved by doing acts of civility between Sunday, August 25, and Friday, August 30, and then post about it on social media using the hashtag #ActsOfCivility. "Your act can be as simple as an act of compassion or service or something more meaningful like opening a new dialogue with a competitor or family member with whom you regularly disagree," says Mrs. McCain.
Please follow the link above for more information and a special message from Senator McCain's wife and son.