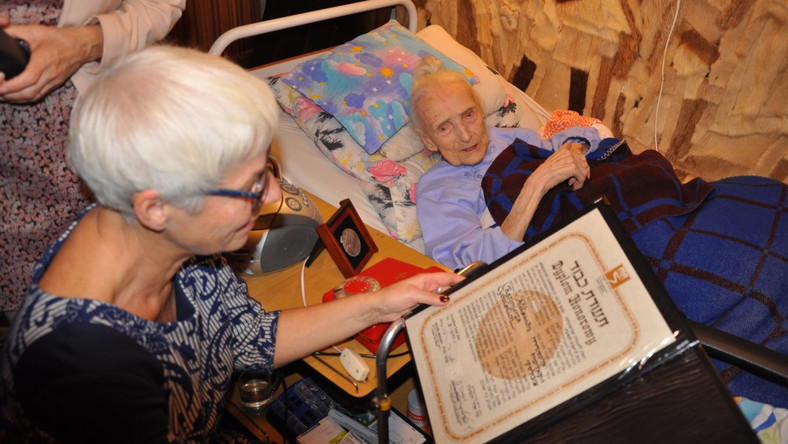 Aleksandra Cybulska receives the Righteous Among the Nations medal and diploma in her home in Gdynia, Poland, October 19, 2017. (Photo: Dorota Petser)
Though 73 years have passed since the end of World War II, Jews who were saved from the Holocaust still look for their rescuers. Also, the rescuers search for those they saved, hoping they are still alive. This was the case with the Cybulski family, whose attempts to find Sonia were finally rewarded. During the war, Sonia Lieberman (born Sonia Sara Szindel in 1933) was placed in the Jewish ghetto in small town of Kłecko and together with her brother and sister would sneak out to find food in the neighboring villages.
They found a helping hand with Aleksandra and Kazimierz Cybulski, who would eventually keep Sonia in their home and save her from deportation to an extermination camp, where all her family perished. After the girl moved to Israel they lost contact with her, but Aleksandar and Kazimierz's son made every effort to locate Sonia, whom he considered a sister. She was found living in the US. On October 19, Aleksandra and Kazimierz Cybulski were honored by the Righteous Among the Nations medal and diploma, which were presented to Mrs. Aleksandra Cybulska, who will turn 100 in November. (Kazimierz Cybulski died in 2002.)
On that occasion, member of the Jan Karski Educational Foundation Advisory Board and Chief Executive Officer of the American Jewish Committee, David Harris has written a poignant and insightful article for Huffington Post. It can be read here.
Righteous Among the Nations is the highest civil distinction bestowed in Israel by Yad Vashem Institute upon non-Jews who took great risks to save Jews during World War II. Jan Karski is among those whose bravery and sacrifice have been recognized. As of January 1, 2017—according to the Yad Vashem official website—26, 513 people have been honored with this title, including 6,706 Poles, who represent the biggest group.