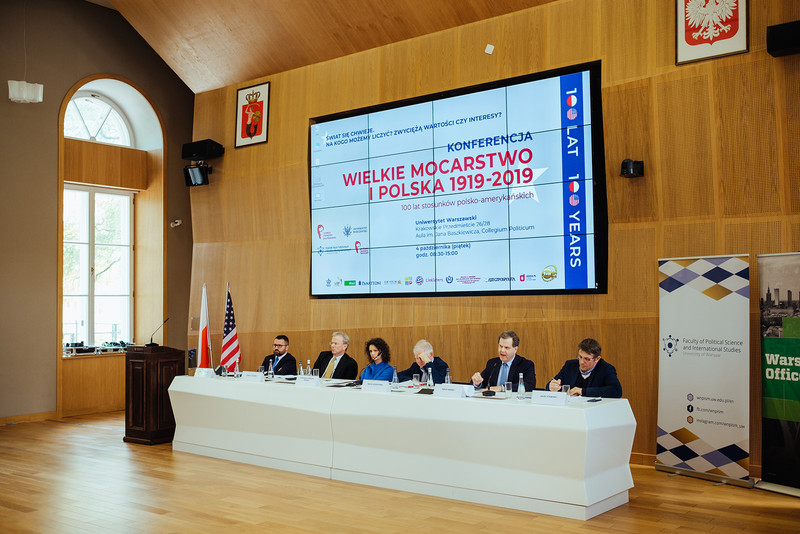 Conference The Great Power and Poland: 1919-2019 (Photo: Przemek Bereza)
Dear Supporter of the Jan Karski Educational Foundation,
The Jan Karski Educational Foundation is proud to have greatly contributed to the eventful recognition of the Karski legacy in 2019. However, our ventures, both in Poland and America, would not have been possible without your financial support, so we want to thank you all for your past donations to the Foundation. We invite you to continue your support so that we can pursue our important mission to keep the Karski legacy alive. Here are the highlights of our accomplishments in 2019:
We organized an international conference, "Great Power and Poland: 1919-2019. The 100th Anniversary of Polish-American Diplomatic Relations," in collaboration with our sister organization in Poland, Fundacja Edukacyjna Jana Karskiego, and the University of Warsaw. It gathered top Polish and American scholars and diplomats who discussed the past, present, and future of these vital relationships.
We awarded the Spirit of Jan Karski Award to Georgetown University's distinguished Professor Emeritus and former Dean of the School of Foreign Service, Peter F. Krogh, in recognition of "his inspirational leadership over 50 years in advancing Jan Karski's historic legacy by bringing together the worlds of the academy and diplomacy to educate thousands of diplomats and television viewers around the world on the urgency of resolving violent conflicts and promoting mutual respect."
Up to this date, we have distributed over 4,000 copies of the award-winning graphic novel Karski's Mission: To Stop the Holocaust (published by JKEF) among students in the US and Poland. We have also presented several seminars to Social Studies teachers and high school students, who were inspired by the incredible story of our hero.
We continue sponsoring aspiring members of the Polish administration, NGO employees, and scholars to the Georgetown Leadership Seminar at Georgetown University. Our participation in GLS is already in its sixth year.
We have sponsored the play "Remember This: The Lesson of Jan Karski" by Clark Young and Derek Goldman and starring the Academy Award-nominated actor David Strathairn. It was shown on the Georgetown University campus twice during a special celebration of the 100th anniversary of GU's School of Foreign Service.
 We have presented the exhibition The World Knew: Jan Karski's Mission for Humanity about Karski's life and his courageous efforts to bring his eye-witness report about the Holocaust to the Western leaders.
In Poland, we sponsored civic education through a project realized in cooperation with the Polish History Museum (for the fifth year).
We rely almost exclusively on private donations, and your contribution is being used in a unique and exclusive way across the US and Poland to continue and further expand the Foundation's essential work. 
Please click HERE to donate or send a check payable to "Jan Karski Educational Foundation" to  JKEF, PO Box 192, Jupiter, FL 33468.
Thank you very much for your generous support!
The Board and Staff of the 
Jan Karski Educational Foundation
in the US and Poland