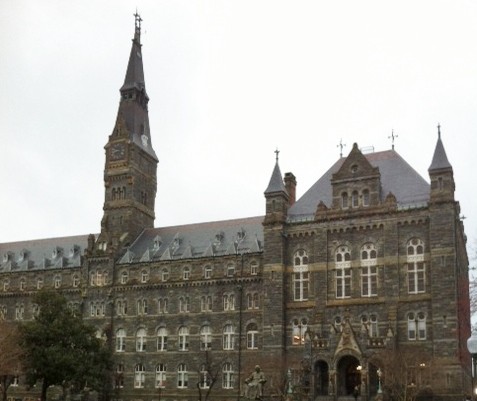 Georgetown University (Photo: Bożena U. Zaremba)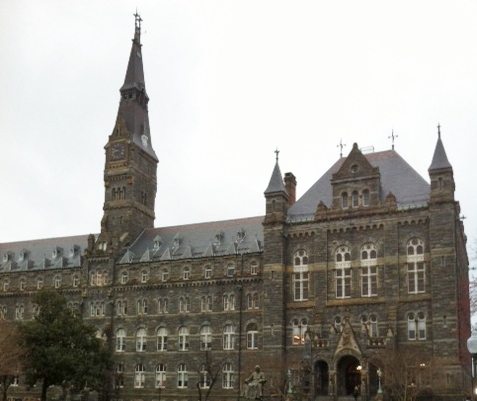 Washington, DC – Chairman of the Board of the Jan Karski Educational Foundation, Andrzej Rojek addressed a group of students and educators at Georgetown University on July 19, to talk about Jan Karski, about Polish-Jewish relations and the mission of the Foundation.
The event was part of a program organized by Georgetown's Jan Karski Institute for Holocaust Education and initiated by its Associate Director Father Dennis McManus, who recently returned from a trip to Poland that was organized by JKEF's sister foundation in Warsaw, Fundacja Edukacyjna Jana Karskiego.
Mr. Rojek talked about Karski's Catholic upbringing and stressed his deep faith and the moral standards instilled by his mother, which guided him throughout his whole life. Karski experienced the complex nature of Polish-Jewish relationships from his early childhood in his hometon, the multicultural city of Łódź, through his studies at the University of Lvov, and during his early career as a junior diplomat at the Polish Foreign Ministry. Karski witnessed growing nationalism and was a perfect candidate to serve as an emissary of the Polish Undersground to carry a message about the extermination of the Jews to the Allies.
Mr. Rojek also presented the goals of the Jan Karski Educational Foundation, its achievements and ongoing programs. "The history of Poland demonstrates the more-than-thousand-year relationship between Christians and Jews," said Rojek. "We are proud that the Jan Karski Educational Foundation continues this tradition and fosters understanding and tolearnce between all groups within the United States."
(Photo of Georgetown University by Bożena U. Zaremba)