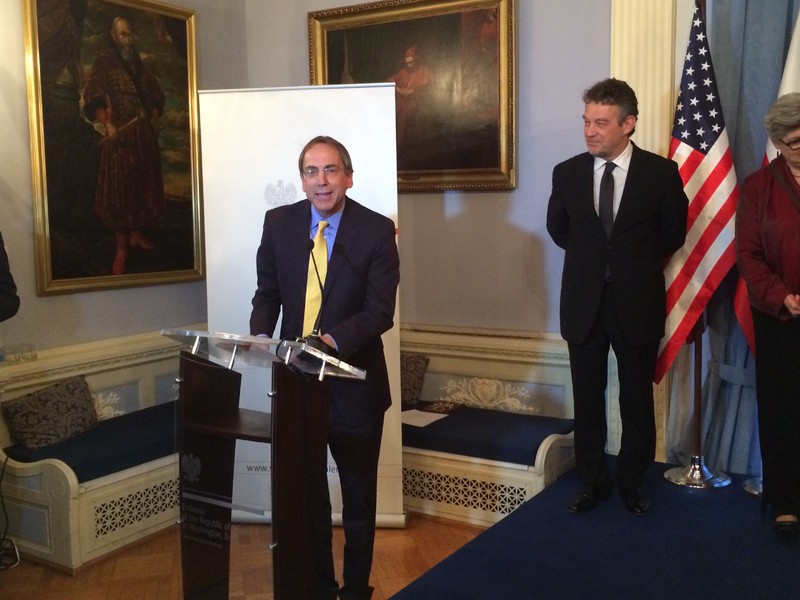 Richard Brown accepts the award from the Ambassador (photo: Wanda Urbanska)
An electric, standing-room-only reception was held at the Embassy of the Republic of Poland on April 23, 2014 to commemorate the 100th anniversary of the birth of Jan Karski while honoring individuals who were instrumental in his revival. Over 100 people gathered to remember Karski and pay tribute to his legacy.
His Excellency Ryszard Schnepf, Ambassador of the Republic of Poland in the United States, hosted the event which was co-hosted by the Jan Karski Educational Foundation on the eve of Karski's birthday. Ambassador Schnepf spoke of the commemoration of "a famous Polish man, a special man to all of us for his bravery and compassion. He taught us morality in politics and life." The Ambassador mentioned laying flowers on his grave earlier in the day and called Karski "our hero." Jan Karski Educational Foundation Chairman Andrzej Rojek spoke of the mission of the Foundation, particularly to tell Karski's story in American schools.
Featured speaker Ambassador Kenneth Adelman recounted to the group about the time Karski spoke at a Holocaust commemoration at his synagogue. The crowd clapped at the end of Karski's remarks, a rare occurrence at a synagogue. A second memory was Adelman's daughter citing Karski as a moral example at her bat mitzvah ceremony, an honor normally given to family members. Adelman stated that "Jan Karski taught me a lot – the only thing he got wrong was that he was a failure. He showed that there was one person brave enough to get the message out."
Auschwitz survivor Rabbi Laszlo Berkowits, also a friend of Karski's, spoke about his own initial disbelief in the crematoria and paralleled that with the disbelief that people showed to Karski's message. He ended his remarks saying, "Don't ask for a blessing, be a blessing."
Several people were honored by the Polish Ambassador with the Amicus Poloniae award, given to American citizens annually for their contribution to strengthening Polish-American ties and the promotion of Polish culture and science in the US. Georgetown University Press staffers were honored for their instrumental work to publish the new edition of Karski's book, Story of a Secret State.  GU Press director Dr. Richard Brown, speaking for the group, called the book "inspirational" and thanked the Jan Karski Educational Foundation for its leadership in promoting the new edition of the book. Others honored were Barbara Kalabinski, Laura Leichum, John Warren, Deborah Weiner, and Piotr Wróbel.  Additionally, Thomas Sneeringer, a former student of Karski's, was honored for his role in obtaining support for the Presidential Medal of Freedom for Karski and his earlier work on behalf of Poland in the office of former Congressman Dan Rostenkowski.