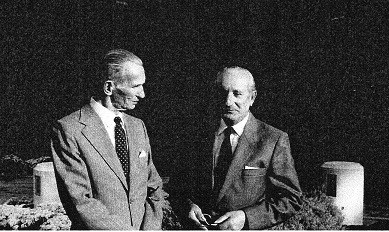 Jan Karski with Dr. Jan Slowikowski in 1987
Dr. Jacek Slowikowski recently met with Jan Karski Educational Foundation President Wanda Urbanska in Durham, NC to share the story of his father's primary role in saving the life of Jan Karski in 1940 when the famed emissary for the Polish Underground was recuperating from torture at the hands of the Gestapo. 
 It was July 1940 when Dr. Slowikowski's father, the late Dr. Jan Slowikowski, was the young receiving physician at Jedrzej Sniadecki Hospital in Nowy Sacz in occupied Poland. The Gestapo -- recognizing Karski's value to their intelligence operations in attempting to break the Polish Underground Resistance -- had transferred Karski to the Nowy Sacz hospital from Slovakia where he was captured, following his suicide attempt. (Despite strong religious convictions, Karski attempted to take his own life in the aftermath of horrific torture sessions so he would not betray his fellow anti-Nazi co-conspirators.)
A junior surgeon, Dr. Slowikowski told his son and others later that Karski had been "mistrustful" at first. Once he opened up, he pleaded for Slowikowski's help in his suicide. Luckily for Karski, Dr. Slowikowski, himself member of the Polish Underground, determined that he would save Karski's life -- rather than help end it -- by arranging for his escape. In order to develop a plan, the elder Dr. Slowikowski  bought some time in the hospital for Karski by fabricating a high fever, according to Jacek Slowikowski. This seemed plausible enough due to Karski's severe wrist wounds. He then hatched his plot, giving Karski his marching orders.
Dr. Slowikowski directed his nurses to drug the guards and patients by lacing their tea with valium, effectively putting them to sleep. Lighting his cigarette was his signal to Karski to strip naked and escape the hospital by jumping out of a nearby window.
Dr. Slowikowski himself went into hiding when the Gestapo came looking for him. He fled to another part of Poland, created a new identity for himself and became a tutor in a private home. Among his students was the young girl who was destined to become his wife.
In retaliation for the escape plot, 32 Poles were subsequently murdered by the Nazis, including Dr. Slowikowski's own brother, Teodor, a young dentist with no involvement in Karski's escape plot.
"My father wouldn't talk about this for decades," said Dr. Jacek Slowikowski, now a prominent cardiologist in Roanoke, Virginia. Happily, Dr. Jan Slowikowski lived to the ripe old age of 95, dying in his adopted city of Wroclaw, Poland. He always cherished his hometown of Nowy Sacz, where a commemorative plaque was unveiled in 2005 listing all the members of the rescue team who participated in Karski's rescue. In 2000, just before his death, Karski paid tribute to the brilliant and courageous surgeon. "Dr. Slowikowski's role in rescuing me was unique and pre-eminent. Jeopardizing his own life, he was instrumental in extending my hospital stay, camouflaging my actual medical condition and also facilitating the transfer of information about my whereabouts... to [Undergound headquarters in] Krakow. ... [This was] heroism of the highest order."
Dr. Slowikowski is singled out for mention during this dramatic episode in his life in the Google Cultural Institute's online exhibition about Karski Humanity's Hero, which was created by the Polish Museum of History in cooperation with the Jan Karski Educational Foundation.