Karski's Story
In the midst of World War II, Jan Karski was dispatched by the Polish Underground to inform Western Allies about the reign of terror in German Nazi-occupied Poland and to seek intervention. Karski's courageous mission, against all odds in the darkest of hours, qualifies him as Humanity's Hero.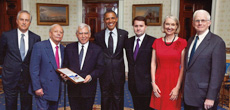 The Foundation
The Foundation grew out of the successful Jan Karski US Centennial Campaign, which placed Dr. Karski's name in nomination for the Presidential Medal of Freedom in December 2011. President Obama awarded the posthumous Medal on May 29, 2012 at a White House ceremony.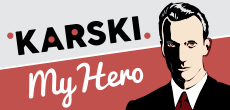 Karski My Hero
The Karski My Hero website shows a fascinating map of European locations that were part of Karski's life and missions, along with pictures from places where many of his adventures took place. Its main goal is to promote the values of courage, respect for human dignity, responsibility, and inter-cultural dialogue.