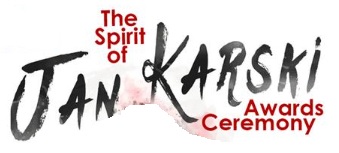 The Jan Karski Educational Foundation presents the Spirit of Jan Karski Award to individuals who through their actions have demonstrated the values represented by Jan Karski and have distinguished themselves by defending human rights, speaking out against aggression and on behalf of the integrity of ethnic and religious groups and sovereign nations.
Previous honorees include:
2019: Peter F. Krogh, Georgetown University's distinguished Professor Emeritus and former Dean of the School of Foreign Service, as well as friend, boss and mentee of Jan Karski.
2016: Nicholas Kristof, The New York Times columnist and two-time Pulitzer Prize-winner, for his unflagging efforts to draw public attention to humanitarian issues around the world through his passionate reporting and powerful writing.
2014: U.S. Senator John McCain – for his courageous leadership and willingness to speak truth to power about international acts of aggression.
2013: Samantha Power, US Permanent Representative to the United Nations – for exemplary work in advancing the issue of genocide prevention. 
2012: Ewa Junczyk-Ziomecka, former Consul General of the Republic of Poland in New York – for pioneering work in promoting improved relations between the Polish Catholic and Jewish communities worldwide.