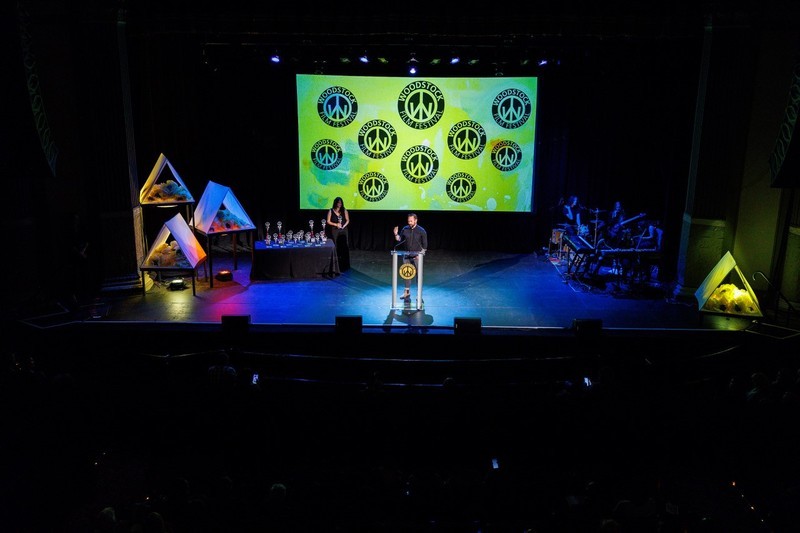 The movie co-director and director of photography, Jeff Hutchens, accepting the Change Maker Award at the Woodstock Film Festival (Photo: Courtesy of Woodstock FF/Dion Ogust)
The recent screenings of the movie Remember This, which presents the courageous life and complex personality of Jan Karski, have met with standing ovations and enthusiastic responses from film festival audiences and organizers nationwide.
We are thrilled to announce it won two awards at the Woodstock Film Festival (September 28 - October 2): The World of HA Change Maker Award and the Audience Award for Best Narrative. "The Change Maker Award honors a filmmaker whose work, either narrative or documentary, most effectively delves deep into a pressing contemporary issue and generates a constructive conversation," says the Festival's website. At the sold-out screening at Montclair Film Festival on October 30, it received the Audience Award for Fiction Feature.
"There's always a sense of urgency and need to share our film with audiences everywhere," said the movie's producer, Eva Anisko. The Montclair Film Festival organizers noted how engaged and moved the Remember This audience was and that the Q&A probably broke the record for the longest such session at the Montclair FF.
The film has also been chosen as an Official Selection at the Portland Film Festival, Heartland International Film Festival, Adirondack Film Festival, and Jewish International Film Festival Australia. Please see the Calendar of Events for the upcoming screenings.
The movie features a brilliant solo performance by the Academy Award-nominated and Emmy-winning actor David Strathairn (Good Night, and Good Luck, Lincoln, Nomadland, Where the Crawdads Sing). It was masterfully written by Derek Goldman and Clark Young and directed by Derek Goldman and Jeff Hutchens, who is also the director of photography. The film was produced and executive-produced by an Emmy-award winner Eva Anisko. It is based on the play Remember This: The Lesson of Jan Karski, written by Derek Goldman and Clark Young and created by the Lab for Global Performance and Politics at Georgetown University.
More details about the movie can be found here.
The Jan Karski Educational Foundation serves as the fiscal sponsor for the movie. We invite you to make a tax-deductible donation at our website to support the movie screenings worldwide.
Here's a related article from Hudson Valley One.