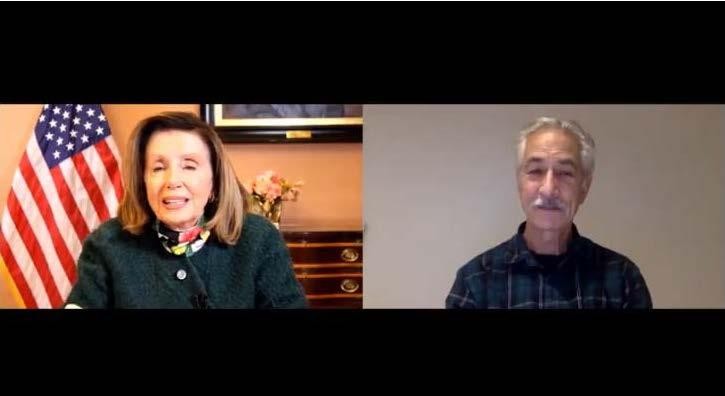 House Speaker Nancy Pelosi and David Strathairn, an Oscar-nominated actor who plays Karski in "Remember This," were special guests at a virtual event, "Bearing Witness: The Legacy of Jan Karski."
"The truth is such a mutable and frippery thing these days," remarked David Strathairn, an Oscar-nominated actor who plays Karski in the feature film Remember This, during a virtual event, "Bearing Witness: The Legacy of Jan Karski," organized by Georgetown University's Laboratory for Global Performance and Politics on December 3, 2020. House Speaker Nancy Pelosi (D-Calif.) was a special guest of the presentation, which also featured other notables: Ambassador Colleen Bell (former US Ambassador to Hungary), GU President John J. DeGioia, and Dean of GU School of Foreign Service Dean Joel Hellman, to discuss the Karski remarkable legacy.
Derek Goldman, Co-Director, Laboratory for Global Performance and Politics, writer and director of Remember This, and Cynthia Schneider, co-founder of the Lab, talked about the genesis of the Karski project. Its co-writer, Clark Young, introduced the audience to Karski's incredible life of courage and dedication. Eva Anisko, the producer of the feature film, recognized the co-director and director of photography, Jeff Hutchens, whose vision was to match the intensity and stamina of the play on which the movie is based. She also spoke about the relevance of Karski's story to the contemporary world and offered a sneak peek at the brilliant film.
When introducing the conversation between Hon. Nancy Pelosi and David Strathairn, Ambassador Bell recognized the power of storytelling and performance and noted that during the pandemic, we all realize the "need to understand each other better." Nancy Pelosi, whose husband, Paul, was Karski's student, reminded the audience about her father's legacy. As a US Representative (MD), Thomas D'Alesandro Jr. spoke to the US Congress in 1943, urging them to take action and help the Jews who were being persecuted in Europe. She also commented on David Strathairn's performance and observed it was more than a role to him, that he "took on [Karski's] values." Strathairn discussed the "phenomenon of denial that [Karski] encountered, and that we are encountering every day...Why are so many people [today] disbelieve or ignore the truth? Why is that happening?"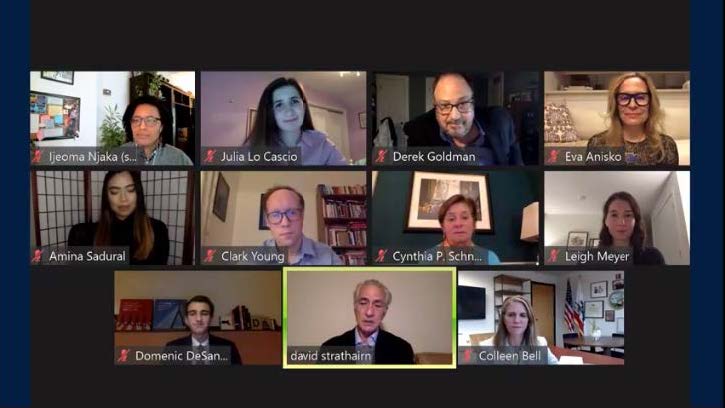 The highlights of the event were the eloquent and insightful statements presented by Georgetown students, who are taking the GU course "Bearing A Witness Legacy of Jan Karski" as a part of the "Just Communities" curriculum taught by Ijeoma Njaka, Lab Inclusive Pedagogy Specialist. The course focuses on today's racial, cultural, and religious challenges, all of which are embodied in the Karski story. Most of the students had never heard of Karski before, except for one whose mother was Karski's student at GU. They talked about how the course curriculum relates both to their personal lives and interests as well as issues we are all facing in the modern world.
"We all agree that what Karski said should not be taken lightly…His legacy is a call to duty for us all," said Julia Lo Cascio. "David makes Karski so personal," said Leigh Meyer, who was attracted to the interdisciplinary aspect of the class. Amina Sadural noted that, just like Karski, we struggle with some people's disbelief in things that seem to be obvious. "I hope we can promote dialogue," added Domenic DeSantes.
Strathairn was impressed by their excellent comments and said they are a testament to the efforts by the creative team of Remember This.
In his closing remarks, Joel Hellman recalled that whenever he asks "alumni what moments affected them, they speak of Karski...he was core to our school...the spirit of Karski lives on through our students."
You can watch the event, including David Strathairn's compelling monologues from Remember This, by following this link.
PLEASE SUPPORT THE PRODUCTION OF THE REMEMBER THIS  FILM
The Jan Karski Educational Foundation is proud to act as a fiscal partner for this project. To find out how to make a tax-deductible donation to support the film, please click on this link, or go to the "REMEMBER THIS" menu item on top of our homepage at www.jankarski.net. Kindly indicate "REMEMBER THIS" on your check or at the PayPal checkout. Thank you very much!