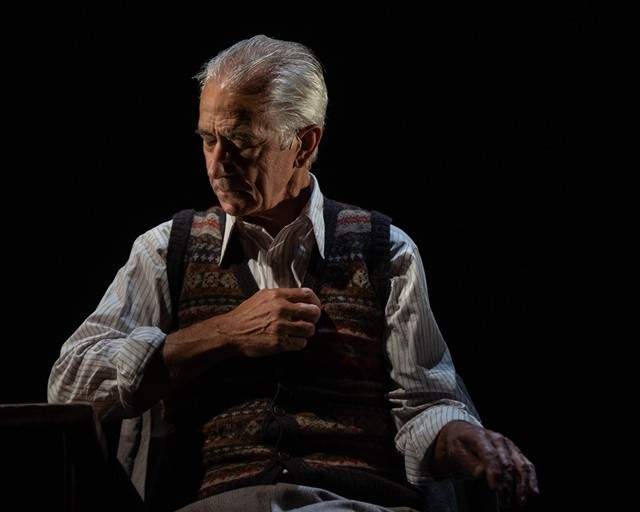 David Strathairn as Karski in Remember This: The Lesson of Jan Karski at the Shakespeare Theater Company in Washington, D.C. (Photo: Teresa Castracane)
The live theater presentations of the play, "Remember This: The Lesson of Jan Karski," continued this fall after a successful run in Washington. D.C. The remarkable story of Jan Karski visited the windy city with performances from November 3–14 at the Chicago Shakespeare Theater (CST).
On this occasion, the Illinois Holocaust Museum & Education Center hosted a discussion on how a theatrical performance can serve as a call to action. The conversation included the co-authors of the play, Clark Young and Derek Goldman, who is also the director, the Academy Award nominee David Strathairn (Good Night, and Good Luck; Lincoln; Nomadland), who plays Karski, and the moderator, Della Pollock, Professor Emerita at The University of North Carolina at Chapel Hill. All performances at CST were followed by Q&As with the artists.
Reviews from the Chicago performances:
Chicago Tribune
https://www.chicagotribune.com/entertainment/theater/reviews/ct-ent-remember-this-review-chicago-shakes-20211105-zm3n5mefazhopg6dfmpl3ylsb4-story.html
Chicago Sun-Times
https://chicago.suntimes.com/2021/11/1/22757099/david-strathairn-remember-this-chicago-shakespeare-theater-jan-karski-holocaust-poland
Patch
https://patch.com/illinois/chicago/david-strathairn-embodies-humble-war-hero-remember
NewCity Stage
https://www.newcitystage.com/2021/11/09/we-forgot-already-a-review-of-remember-this-the-lesson-of-jan-karski-at-the-chicago-shakespeare-theater/
Conversations with David Strathairn:
Illinois News Today
https://illinoisnewstoday.com/the-acclaimed-actor-david-strathairn-plays-the-hero-of-world-war-ii-at-the-chicago-shakespeare-theater-chicago-news/410888/
WTTW News
https://news.wttw.com/2021/11/03/acclaimed-actor-david-strathairn-portrays-world-war-ii-hero-chicago-shakespeare-theater
WGN Radio 720 (at 58th minute)
https://wgnradio.com/dean-richards-sunday-morning/dean-richards-sunday-morning-november-7th-2021-one-week-from-our-live-treetime-broadcast/
To read the reviews from the performances in Washington, D.C., please follow this link:
https://www.jankarski.net/en/news-and-events/news/what-should-we-take-from-karski-today.html
Written by Clark Young and Derek Goldman and directed by Derek Goldman, this production was created by The Laboratory for Global Performance and Politics at Georgetown University. The tour is organized with the support of the Jan Karski Educational Foundation.
 All photos from the show by Teresa Castracane