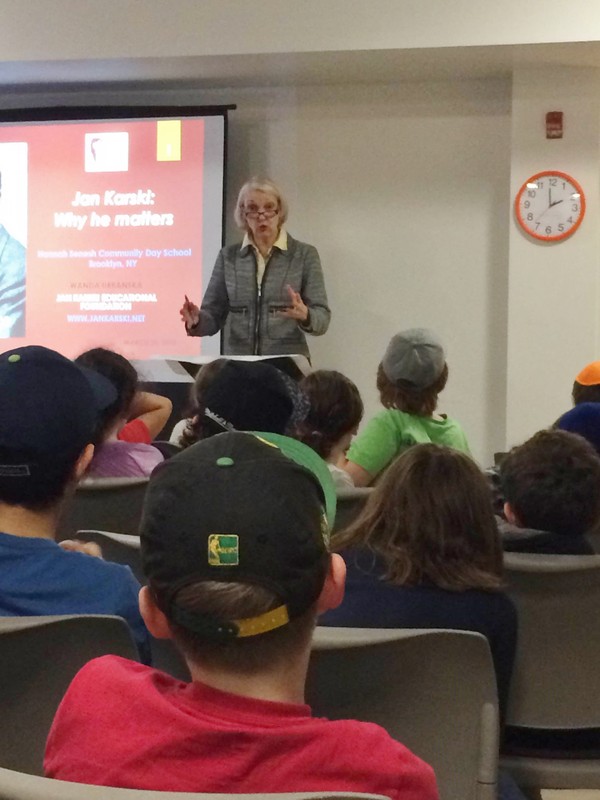 Jan Karski Educational Foundation President Wanda Urbanska sharing the Karski legacy with Hannah Senesh Community Day School students (Photo: David Samuels)
Brooklyn, NY - A flurry of raised hands from fourth and fifth graders at the Hannah Senesh Community Day School in Brooklyn last week demonstrated an enormous interest in the legacy of Jan Karski, the Polish Catholic hero of World War II known as "one man who tried to stop the Holocaust."
 "Why did Jan Karski jump naked from the hospital window when he was trying to escape?" asked one student after hearing the presentation, Jan Karski: Why He Matters, by Jan Karski Educational Foundation president Wanda Urbanska on March 26.
"Why did the doctor light a cigarette in the hospital before Karski escaped?" asked another who simply couldn't grasp the concept of a physician smoking inside a hospital.
Students in grades four through eight, numbering approximately 120, had read excerpts from Karski's Story of a Secret State in advance of Ms. Urbanska's presentation and knew enough about Karski's adventurous life to want to know much more. Ms. Urbanska made a Power Point presentation that detailed his youth and upbringing in the multicultural Polish city of Lodz along with his pre-War career ambitions. Her presentation gave basic facts about Polish history as well as the geopolitical situation of Poland before the war.
After the younger classes reluctantly departed, Ms. Urbanska presented the Karski legacy to sixth through eighth graders, and then gave an evening presentation to members of the school community and the general public.
The evening presentation included delicious offerings of kosher wine, cheese, fruits and vegetables, organized by Phyllis Sussman and Angie Lieber of Hannah Senesh School, and augmented by the surprise visit of Alice and Sam Weinbaum, a couple whose son, Laurence Weinbaum, was a graduate of Georgetown University, class of 1982, and an esteemed student of Dr. Karski.
Mr. Weinbaum stood and related how his wife had once introduced herself to Dr. Karski, mentioning that their son had described the great Polish professor as "his mentor." Karski, in his thick accent, quickly responded:  "'Laurence Weinbaum was my mentor,'" Dr. Karski told her. He was a man of great humility," Mr. Weinbaum said.
The program was sponsored by the Hannah Senesh Community Day School with additional funding from the Polish Cultural Institute and the Jan Karski Educational Foundation.
David Samuels, literary editor of Tablet and Hannah Senesh School parent, introduced Ms. Urbanska to the younger group of students. In an email, after the presentation, Samuels commented, "My son and his friends are Karskites now. It was a valuable thing that you did, and I am so grateful that you were willing to ... help sound the chords of memory and shared historical experience that bound these two communities together, and still do."