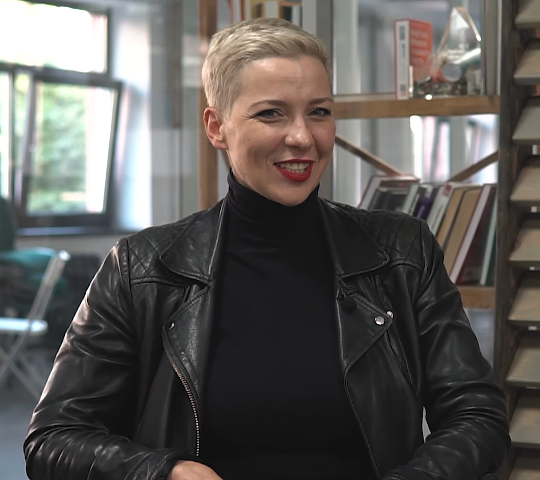 The 2021 Spirit of Jan Karski Award, presented by the Jan Karski Educational Foundation, was awarded to a Belarusian opposition activist, Maria Kalesnikava*.
The Jan Karski Educational Foundation's Spirit of Jan Karski Award Committee has bestowed the Award on the imprisoned Belarusian opposition activist, Maria Kalesnikava, for demonstrating the values represented by Jan Karski through fierce activism on defending human rights. Please read Ms. Kalesnikava's bio here: maria-kalesnikava-bio-en-87469.pdf
The recipient's sister, Tatsiana Khomich, accepted the Award on June 22, on her behalf. The Award Committee consisted of the following members: Prof. Adam D. Rotfeld, Prof. Włodzimierz Borodziej, Maciej Wierzyński, Prof. Aleksander Skotnicki, Paweł Rymarz, Monika Korowajczyk-Sujkowska, Ewa Junczyk-Ziomecka, Agata Tuszyńska, Joanna Podolska, Andrzej Rojek, Michał Mrożek, and Wojciech Pawłowski.
"I am certain that Karski would approve of our decision," said the Chairman of both Foundations, Andrzej Rojek. "We decided to recognize Kalesnikava's steadfast resistance to Lukashenko's regime and her courage to demand civil rights for the persecuted opposition activists."
Professor Timothy Garton Ash, British historian and expert on Central and Eastern Europe who will deliver laudation at the ceremony on June 22, said, "Kalesnikava is one of the heroes of the great peaceful fight for freedom in Belarus. It is hard to imagine a more worthy recipient of this award."
The Spirit of Jan Karski Award is awarded by the Jan Karski Educational Foundation in New York and its sister organization in Poland, Fundacja Edukacyjna Jana Karskiego, to individuals who, through their actions, have demonstrated the values represented by Jan Karski. The Foundations recognize those who have distinguished themselves by defending human rights and dignity, by speaking out against racism, and who guard ethnic and religious groups and sovereign nations to build an open and tolerant society. Learn more information about the history and mission of the Foundation, or view previous honorees.
During the event, the Foundations also honored three young people for their activism during 2020 with a Karski2020 Award. Read more about their incredible achievements.
Following the ceremony was a concert dedicated to Jan Karski and the award recipients, presented by a Polish singer and actress, Katarzyna Groniec, renowned for her beautiful renditions of lyric-driven songs.
The event was organized by the Jan Karski Educational Foundation and Fundacja Edukacyjna Jana Karskiego in cooperation with the POLIN Museum of the History of Polish Jews, the National Freedom Institute (NIW), and the Civil Society Organizations Development Program (PROO). The awards and ceremony were underwritten by the Rymarz Zdort Law Firm.
*Some sources spell her last name as Kolesnikova.