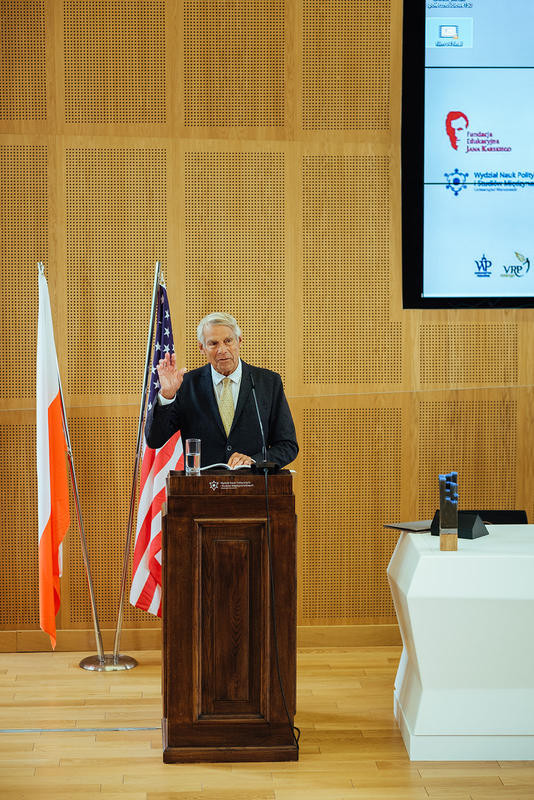 Professor Peter Krogh Accepts the Award (Photo: Przemek Bereza)
Warsaw, Poland—Georgetown University's distinguished Professor Emeritus and former Dean of the School of Foreign Service, Peter F. Krogh, was honored with the Spirit of Jan Karski Award on October 4, 2019, during an international conference at the University of Warsaw. It was awarded "for his inspirational leadership over 50 years in advancing Jan Karski's historic legacy by bringing together the worlds of the academy and diplomacy to educate thousands of diplomats and television viewers around the world on the urgency of resolving violent conflicts and promoting mutual respect."
Many notable guests attended the ceremony including the US Ambassador to Poland, Georgette Mosbacher, Secretary of State and Chief of the Cabinet of the President of Poland, Krzysztof Szczerski, and former US Ambassadors to Poland, Stephen Mull and Daniel Fried, as well as the Rector of the University of Warsaw, Marcin Pałys. Also present were representatives of Georgetown University: Ambassador Barbara Bodine, Director of the Institute for the Study of Diplomacy, and James P. Seevers, Director of Studies and the Georgetown Leadership Seminar at the Institute for the Study of Diplomacy at the Edmund A. Walsh School of Foreign Service. The attendees also included Jan Karski's former students from Georgetown University, alumni of the Georgetown Leadership Seminar, recipients of the Jan Karski Educational Foundation's GLS scholarship, University of Warsaw faculty and students, Polish Ministry of Foreign Affairs officials, journalists, as well as members of the general public.
In his poignant acceptance remarks, Professor Krogh recognized two people as his mentors: his father and Jan Karski. Mr. Krogh senior lost his job several times over his protests against injustice, including the internment of the Japanese-American during WWII. About Karski, Professor Krogh said, "I relied so heavily on his wisdom, his dignity, his gravitas in working my way through many challenges. He stood steadfastly by my side as an inspiration…as a kind of guardian angel."
The Spirit of Jan Karski Award is presented by the Jan Karski Educational Foundation to individuals who through their actions have demonstrated the values represented by Jan Karski and have distinguished themselves by defending human rights, speaking out against aggression and on behalf of the integrity of ethnic and religious groups and sovereign nations. Previous recipients include Senator John McCain, Ambassador Samantha Power, and journalist Nicholas Kristof.
The award was presented to Dean Krogh during the conference "The Great Power and Poland: 1919-2019" organized by Fundacja Edukacyjna Jana Karskiego in Poland and the Jan Karski Educational Foundation in the US, in collaboration with the University of Warsaw, on the occasion of two important centennials—the 100th anniversary of Poland-US diplomatic relations and Georgetown University's Walsh School of Foreign Service. Two panel discussions centered around the issues crucial not just to Polish-American but also European-American relations. The first panel focused on defining common values and interests, the second one on Atlanticism and power politics. The discussion was informative, spirited, and inspiring.
A new, beautiful edition of the Polish translation of Karski's magnum opus The Great Powers and Poland: From Versailles to Yalta was also unveiled during the event.