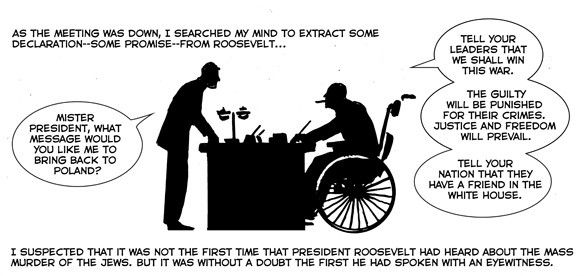 Illustration from the graphic novel Karski's Mission: To Stop the Holocaust
Another group of students at the Loyola University Chicago has learned about Karski through the award-winning graphic novel Karski's Mission: To Stop the Holocaust, thanks to two passionate promoters of the Karski legacy: John Merchant, a Lecturer in Polish, Irish, and Polish American Literature at LU and Bożena Nowicka McLees, Director of Interdisciplinary Polish Studies at LU, as well as former member of the Jan Karski Educational Foundation's Board of Directors. After the students read the book, he asked them to write down their comments – their thoughts and feelings: What did they found out that they had not known before? What part of the book stood out? What made the biggest impression on them?
It turned out that students learned quite a few new facts about Polish history and the history of World War II; they found the lack of response from the Western leaders to Karski's report unsettling; and most of them enjoyed studying history through the medium of a comic book.
Please read their insightful comments here: lu-students-graphic-novel-reviews.pdf
The graphic novel has been published by the Jan Karski Educational Foundation. For more information and how to order, click here.