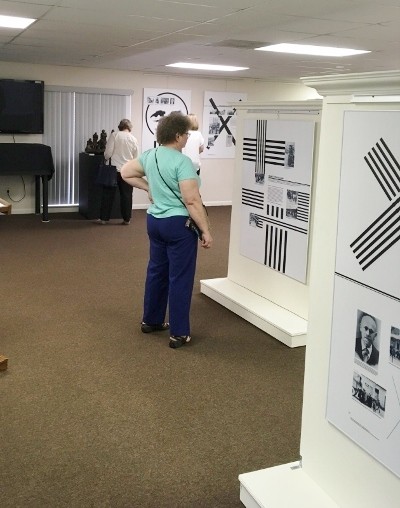 The viewing of the Karski exhibit at the Holocaust Musuem & Education Center of SW Florida (Photo: Courtesy of the Holocaust Museum & Edu Ctr. of SWFL)
Naples, FL – the Karski exhibit The World Knew: Jan Karski's Mission for Humanity  has opened at the Holocaust Museum and Education Center of Southwest Florida in Naples, FL, in collaboration with the Jan Karski Educational Foundation. The mission of the Holocaust Museum & Education Center of SWFL is to teach the lessons of the Holocaust in order to inspire action against bigotry, hatred, and violence through exhibits and educational programs and activities for students at all grade levels as well as the general public.
The presentation of The World Knew exhibit is accompanied by a display of Karski related materials such as the graphic novel Karski's Mission to Stop the Holocaust, Karski's wartime memoir Story of a Secret State, the proceedings from the Memory and Responsibility centennial conference devoted to Karski, and the White Book about Karski's Presidential Medal of Freedom.
Also on display is a bronze sculpture by Julia Balk, that represents three lost generations. Here is the message the artist was trying to convey in this extraordinary piece: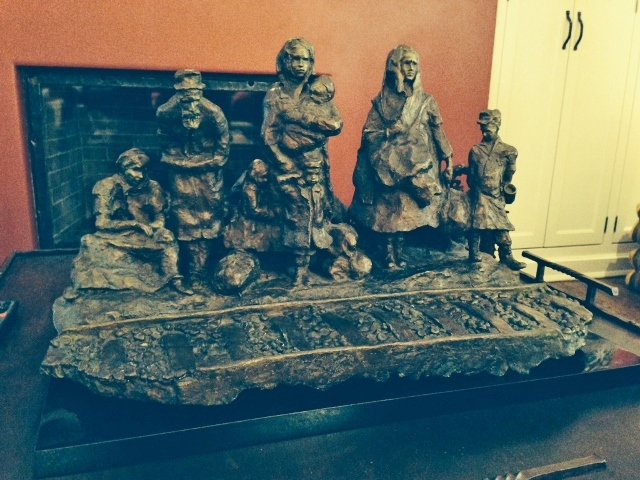 "These shabbily dressed people are standing with their assorted personal belongings beside a rail road track. In such a way, I depict a seemingly ordinary event. But in the context of the Second World War, this event is made extraordinary by the fact that these people are waiting for a train that will subsequently carry them to their final destination, a destination that has no place in this world. It is my hope that everyone who sees this memorial scu1pture will be able to identify closely with the individuals represented. There is a very fine line separating the world inhabited by these people and our own world. This line is defined by the train tracks. With this sculpture, I seek to express as well as to share my hope that the impending tragedy of these people never reoccurs, and that those train tracks never again bear the weight of so many wasted lives."
The Holocaust Museum is planning projects for students, lectures, and panel discussion directly relating to The World Knew exhibit. Please stay tuned for the updates. The exhibit will be available for viewing until May 14, 2017.
The tour of The World Knew: Jan Karski's Mission for Humanity traveling exhibition is organized by the Jan Karski Educational Foundation. The exhibit was created by the Polish History Museum with a major support from the Polish Ministry of Foreign Affairs. Additional funding was provided by the National Endowment for the Humanities. Any views, findings, conclusions or recommendations expressed in this exhibition publication do not necessarily reflect those of the National Endowment for the Humanities.