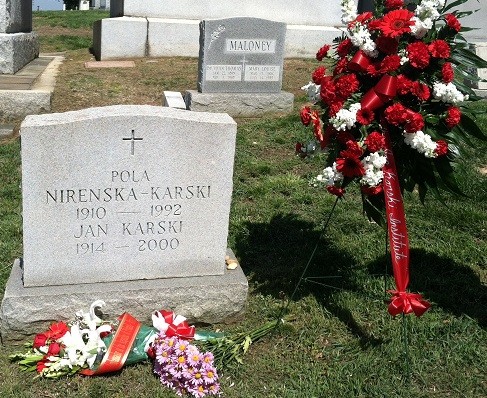 The grave of Jan Karski and Pola Nirenska-Karski at Mount Olivet Cemetery in Washington, DC (Photo: Jane Robbins)
Jan Karski died on July 13, 2000, and while the mission of the Jan Karski Educational Foundation focuses on the life of the great Polish emissary, the 18th anniversary of his death gives us an opportunity to recall how people and media reacted to his passing away.
In a special letter remembering Karski and his accomplishments (dated July 17, 2000), former US President Bill Clinton wrote:
Jan Karski was brave; he was resolute; and he demanded of us what he demanded of himself: that we face with clarity the existence of injustice and devil in the world and act with courage to defeat them. Above all, his message was that freedom must be defended. His personal courage and commitment gave weight to his convictions, and his understanding of the would give depth to the personal history he embodied.
Those who knew Karski will never forget him, and his message will continue to light the path of freedom-loving peoples throughout the years to come. No one could ask for a finer legacy.
President Clinton studied at Georgetown University at the time when Karski served at GU's Edmund A. Walsh School of Foreign Service as a distinguished professor (although—contrary to various materials—Clinton was never Karski's student). The letter was read at Karski's funeral. Read the whole letter: president-bill-clinton-letter.pdf
The author of the obituary published in The Guardian described Karski as "the eyes, ears and voice of the Polish underground." Please read this article in its entirety as well as other obituaries:
The Guardian:
"Jan Karski: Polish resistance hero who risked his life bringing evidence of the Holocaust to the west"
The Economist:
"Jan Karski, an heroic Catholic-Jew, died on July 13th, aged 86."
The New York Times:
"Jan Karski Dies at 86; Warned West About Holocaust"