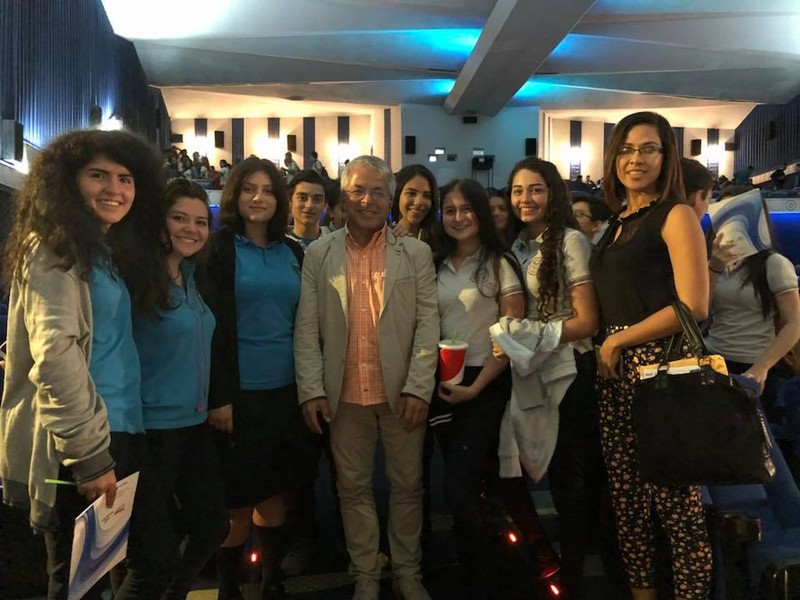 Director of Karski & The Lords of Humanity, Slawomir Grunberg with students and a teacher at the Costa Rica screening (Photo: Courtesy of Slawomir Grunberg)
The award-winning documentary Karski & The Lords of Humanity by Slawomir Grunberg has been recently shown at two locations, in San Jose, Costa Rica on June 5, and in Los Angeles on June 10.
In San Jose, Karski & The Lords was a feature presentation during the First Human Rights Documentary Film Festival organized by the Espressivo Cultural Association. Special screenings for high school students, some of whom traveled for four hours at night to get to see this remarkable film, were organized with the help of Yad Vashem and the Embassy of Israel. During six showings, over 1,200 people saw the film. The audience was introduced to the subject matter by a short talk about Karski and his times. Teachers received educational materials about Karski, including the award-winning graphic novel Karski's Mission: To Stop the Holocaust, donated by the Jan Karski Educational Foundation.
The Dortort Center for Creativity in the Arts at the University of California Los Angeles Hillel and the Los Angeles Museum of the Holocaust organized the screening in Los Angeles, attended by approximately 150 people. It was accompanied by a lively Q&A session with the film director Slawomir Grunberg, moderated by Dr. Michael Berenbaum, a Holocaust scholar and writer, as well as a student and close friend of Karski. The screening was co-sponsored by UCLA Hillel, the LA Museum of the Holocaust, the Consulate General of the Republic of Poland, and the Jan Karski Educational Foundation.