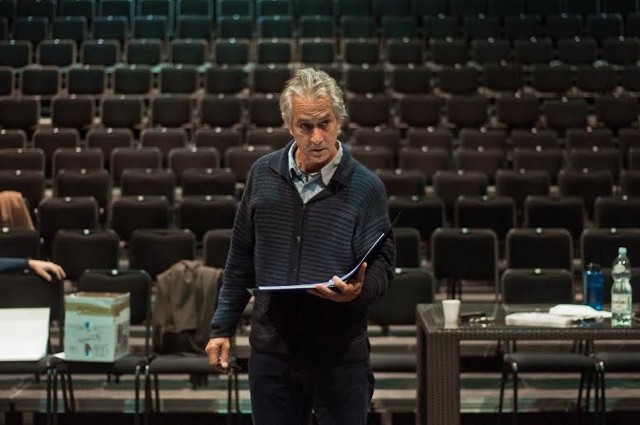 David Strathairn during the rehearsal at the IMKA Theater in Warsaw (Photo: Seweryn Pogorzelski)
Strathairn's Karski Mesmerizes Theater-Goers in Poland
Warsaw, Poland - On October 29 and 30, Polish theatre-goers had the chance to see a new incarnation of Remember This: Walking with Jan Karski, a dramatic reading starring Oscar-nominated actor David Strathairn* as Karski. The play, which was crafted by Clark Young and Derek Goldman, had its world premiere on April 24 at Georgetown University in celebration of the centennial of the birth of Jan Karski. This play skillfully presents Karski's life story, starting from his humble Catholic upbringing in multicultural Lodz, through his arrest by the Soviets while serving in the Polish Army at the beginning of World War II, to his daring escape from the Germans on a moving train all the way to his 1943 meeting with President Franklin Roosevelt. The Warsaw production featured Rafael Suanes, a Georgetown University student, as the young Karski, along with an ensemble of senior-year students of the Ludwik Solski Academy for the Dramatic Arts in Krakow who played Karski students. 
The production was sponsored by the US and Polish branches of the Jan Karski Educational Foundation (JKEF).  IMKA Theater provided the venue and its producers arranged the artistic, financial and logistic support for the Polish production. 
In his opening statement, director Derek Goldman emphasized that the production is still "in-the-making" and noted that it will soon move to stages in New York and Washington. 
As JKEF Director and former Karski student Michał Mrożek stated after the performance, behind Karski's impeccable bearing and façade of structure and discipline was a "volcano of emotion." Karski's multifaceted personality poses enormous challenges for any artist but David Strathairn once again proved equal to the challenge.
The closing line of the play "Let's start from the beginning" calls attention to the educational value of the Karski narrative, which needs to be constantly retold to bring to light the still unfamiliar historical events, to warn the world about the dark side of human nature, and to prevent atrocities from happening again.
Remember This: Walking with Jan Karski. Written by: Clark Young and Derek Goldman. Directed by: Derek Goldman. Cast: David Strathairn as older Karski; Rafael Suanes as young Karski; Anna Antoniewicz, Sebastian Grygo, Tomasz Koralik, Maciej Kulig, Mateusz Malecki, Monika Mazur, Piotr Nerlewski, Tomasz Wlosok and Małgorzata Zielińska as students. Organized and Sponsored by: Jan Karski Educational Foundation, IMKA Theater, and the Laboratory for Global Performance and Politics at Georgetown University. Additional Support Provided by: StreetSigns Center for Literature and Performance; Orlen; Ministry of Foreign Affairs of the Republic of Poland; Fenix Group, Renesans Architektury; Bank Polski; Porsche, Inter Auto Polska; Spar; Bac-Pol, Twój Partner; Griffin Artspace; Aquarius Fund; Baker & McKenzie; Dentos; Empik; Mulitmedia Polska; GreenbergTraurig; ttcom Group; Euco; Polin Museum of the History of Polish Jews; and Lot Polish Airlines.
 *Read an exclusive interview with David Strathairn by JKEF's Bozena U. Zaremba.