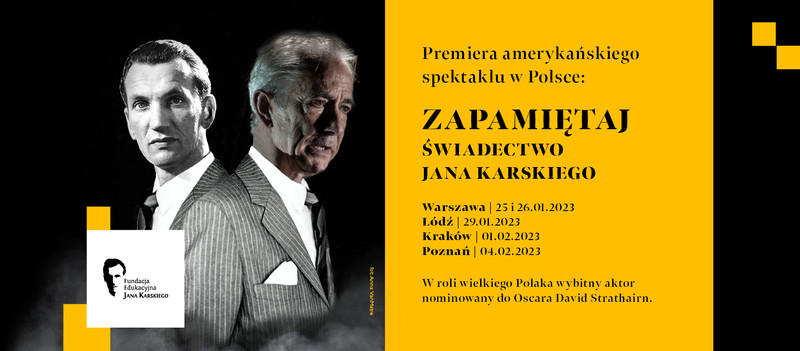 Poster announcing the Polish tour of Remember This: The Lesson of Jan Karski
The Jan Karski Educational Foundation, its sister organization in Poland, Fundacja Edukacyjna Jana Karskiego, and The Laboratory for Global Performance and Politics are thrilled to announce that the critically-acclaimed play Remember This: The Lesson of Jan Karski (Polish title: Zapamiętaj. Świadectwo Jana Karskiego) is coming to Poland in January and February of 2023. Following the enthusiastic reception by critics and audiences in Washington, D.C., New York, NY, Chicago, IL, Berkeley, CA, and Bilbao, Spain, the show (played in English with Polish and Ukrainian subtitles) will be presented in four Polish cities:
January 25 & 26          Warsaw – Teatr Dramatyczny     SOLD OUT
January 29                      Łódź – Artkombinat                          SOLD OUT
February 1                      Kraków – Teatr Variete                   SOLD OUT
February 4                      Poznań – Aula Artis                          SOLD OUT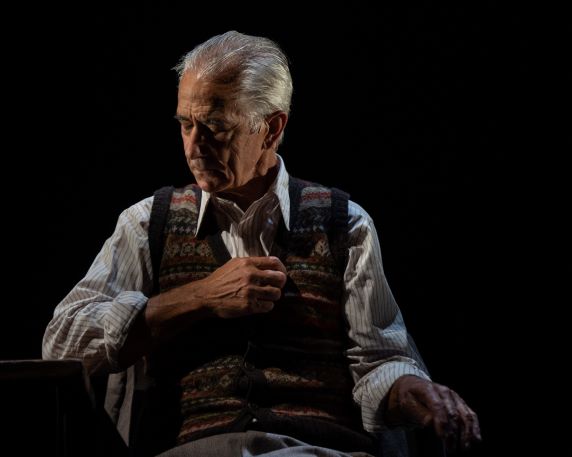 In a tour-de-force, solo performance, the Academy Award-nominated actor David Strathairn (Good Night, and Good Luck, Nomadland, Lincoln) portrays World War II hero and Holocaust witness Jan Karski, a messenger of truth who risked his life to carry his harrowing report from war-torn Poland to the Allied Nations and, ultimately, the White House only to be ignored and disbelieved. Bearing witness to the despair of the Warsaw ghetto and standing tall in the halls of power, Strathairn captures the remarkable life of this self-described "insignificant, little man" whose forgotten story of moral courage and individual responsibility can still shake the conscience of the world.
WATCH THE TRAILER:
Strathairn delivers an incredible performance to resonate at every emotional, mental and physical level with a direct connection to the hearts, minds, soul and spirit of the audience... an incredible and rare opportunity...transformative theatre... never-to-be-forgotten. – Philip Potempa, Chicago Tribune
I was deeply moved to witness this brilliant production, anchored by David Strathairn's astonishing performance, which captures the soul of Jan Karski...Karski's legacy of moral courage should always be a challenge to our conscience. We must bear witness to our history, face the truth, and act upon it. – House Speaker Nancy Pelosi
Jan Karski (1914-2000) was a courier for the Polish Underground during World War II. In 1942, Karski, who was a Catholic, volunteered to infiltrate the Warsaw Ghetto and a Nazi camp before traveling to London to report to the Allied Nations on the conditions of occupied Poland and, specifically, the Holocaust. He personally delivered his eyewitness account—and urgent appeal for intervention on behalf of the Jewish people—to British Foreign Secretary Anthony Eden and President Franklin D. Roosevelt in the White House. His report was ignored. After the war, Karski earned his Ph.D. at Georgetown University, where he was a beloved Professor in the School of Foreign Service for 40 years. Considering himself essentially a failure and "an insignificant little man," Karski didn't share his story for decades until filmmaker Claude Lanzmann persuaded him to speak of his experiences for the first time in the celebrated documentary Shoah. Karski was made an honorary citizen of Israel and was awarded the distinction "Righteous Among the Nations" by Yad Vashem.
The mission of the Jan Karski Educational Foundation (U.S.) and Fundacja Edukacyjna Jana Karskiego (Poland) is to instill in people – especially youth – the values of leadership, courage, and integrity, as exemplified by the life of Jan Karski. The organization grew out of the successful Jan Karski US Centennial Campaign, which led to Karski being recognized by President Barack Obama on May 29, 2012, with America's highest civilian honor, the Presidential Medal of Freedom, which was bestowed upon Karski posthumously.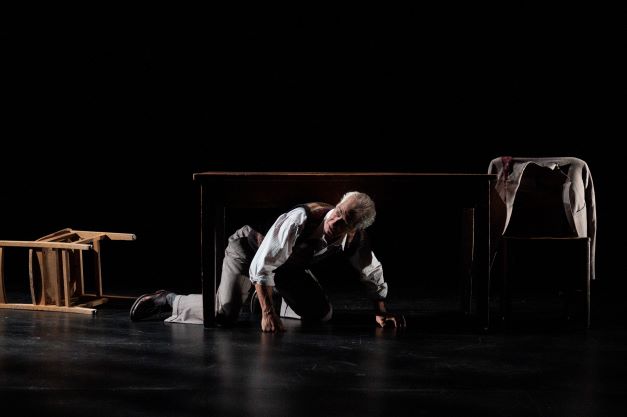 Karski's courageous mission, against all odds in the darkest of hours, qualifies him as Humanity's Hero. His testimony sets the record straight about what the world knew about the Holocaust when there was still time to act. His lifetime of service to humanity – as an emissary, as a distinguished educator at Georgetown University, and as a voice of conscience – places him in the first rank of world figures from the twentieth century.
Remember This: The Lesson of Jan Karski was written by Clark Young and Derek Goldman and directed by Derek Goldman and was originally created by The Laboratory for Global Performance and Politics at Georgetown University. The Polish tour of the play Remember This: The Lesson of Jan Karski is organized and funded by the Jan Karski Educational Foundation and Fundacja Edukacyjna Jana Karskiego. Partners: Teatr Muzyczny (Poznań), Teatr Dramatyczny (Warsaw), Artkombinat (Łódź), Teatr VARIETE (Krakow), City of Warsaw, Łódź, Kraków, and Poznań, Polish History Museum, and Screen Network.
More information about this theatrical production at https://www.jankarski.net/en/rt/about-the-remember-this-play.html
Please read the enthusiastic reviews from the top American newspapers and magazines: https://www.jankarski.net/en/rt/remember-this-news.html
Photos: Teresa Castracane