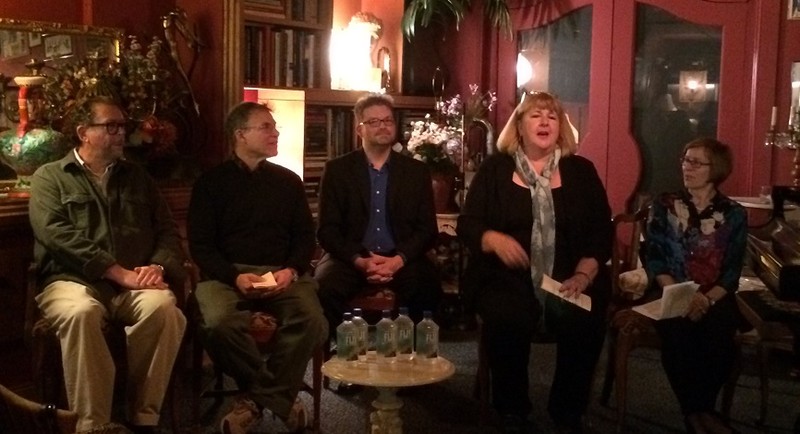 Dale McFadden, Arthur Feinsod, Chris Berchild, Mary Skinner, Ewa Wierzyńska (photo by Jane Robbins)
Several hundred people participated in the Jan Karski International Conference on Memory and Responsibility, organized by the Polish Studies Program at Loyola University Chicago in collaboration with the Jan Karski Educational Foundation. Presentations about different aspects of World War II and the Holocaust were made, educating and informing their audiences.  
It was the many cultural events that accompanied the Conference that allowed everyone to reflect and enjoy. The conference included the screening of two films about WWII and a splendid concert of Polish classical and cabaret music. A new play about Karski followed the next day.
The piquant quality of the award-winning documentary In the Name of Their Mothers, directed and produced by Mary Skinner, was key to its inspiring spirit. The film told the story of Irena Sendler, a Warsaw social worker who saved about 2,500 Jewish children by smuggling them out of the ghetto and arranging caretakers for them. During several conference sessions, Skinner had emphasized that Sendler collaborated with other social workers to accomplish this amazing feat. Her film showed that even in the darkest of times, ingenuity can serve humanity. 
A screening of director Robert Glinski's Stones for the Rampart (Kamienie na szaniec), generously sponsored by the Polish Film Festival in America, is a new 2014 film adaptation of a novel written by Aleksander Kamiński and published by the Polish Underground press a month before he was killed by Nazis in Warsaw.  This authentic portrait shows the bravery – and even the foolhardiness at times – of teenage boy scouts in WWII and how urgently wanted to make a difference in the fight against the German occupiers of Poland. The courage of the scouts was exemplified by their camaraderie in many poignant scenes, the high skill of the actors and an accurate depiction of oppressive wartime conditions. The film left a powerful impression on everyone in the auditorium.
The Polish Music Concert in Honor of Jan Karski featured several musical pieces by Polish composers of different eras. It began with infrequently heard Six Mazurkas by Fryderyk Chopin, with lyrics added by Pauline Viardot. Delia Surratt, accompanied by the pianist Diana Schmuck, dazzled the audience with her vocal technique. Schmuck also presented a beautiful solo performance of Karol Szymanowski's Four Polish Dances for Piano, followed by Surratt's emotive rendition of the Sorrowful Songs from Symphony No. 3 by Henryk Górecki. This heart wrenching piece was inspired by a wall inscription at a Gestapo prison in Zakopane – a lament of a young female Polish resistance fighter. The singer and the pianists were accompanied by a string quartet with John Tuck, Kamen Vatchev, Pascal Innocenti and Timothy Hager.
The Lira Ensemble vocalist Ewa Kowcz-Fair performed amusing and very popular Polish cabaret songs of the 1930s and 40s. Master of Ceremonies Beth Holmgren guided the audience through the lyrics of each song – mostly about love – and through the cultural background of the times. The witty vocalist Kowcz-Fair was accompanied by pianist Marek Rachelski, who – to the audience's delight – burst into song during one piece, and Kowcz-Fair proved as good an actress as a singer.
Playwright Arthur Feinsod presented Coming to See Aunt Sophie to an appreciative audience at the charming Chopin Theatre, starting the evening with a pre-show discussion of the play with Feinsod himself, a documentary director Mary Skinner, the Polish History Museum's Ewa Wierzyńska and the play's own director Dale McFadden, all moderated by Chris Berchild. 
Coming to See Aunt Sophie was born when Skinner challenged Feinsod to write the play, and he composed it in only a few months after immersing himself in Karski's fascinating story. Director McFadden mentioned how Karski has "an aspect of mystery of how someone could be this brave and survive."  Prompted by a question from the audience, Wierzynska discussed three tragic suicides that affected Karski's life: a Jewish bund leader who killed himself out of despair of what was happening to his people, Karski's beloved older brother and Underground hero, and Karski's second wife.
The play has been performed in both Germany and Poland to great acclaim, and this was its Chicago premier. Actors Brad Venable, Andrew Behling, Jason Bowen, Rob Glidden, Jomar Ferreras, Julie Dixon and Molly LeCaptain comprised an excellent cast, many of them skillfully playing multiple characters. Emotion prevailed and no one left without an understanding of the war's dilemmas and the choices that Karski had made on behalf of those subjugated by the Nazis.
A more complete story about the play includes more information about the plot and characters.
Adding these wonderful cultural events to the conference enriched and enlightened everyone, rounding out our knowledge of Jan Karski and his era in wartime Poland.