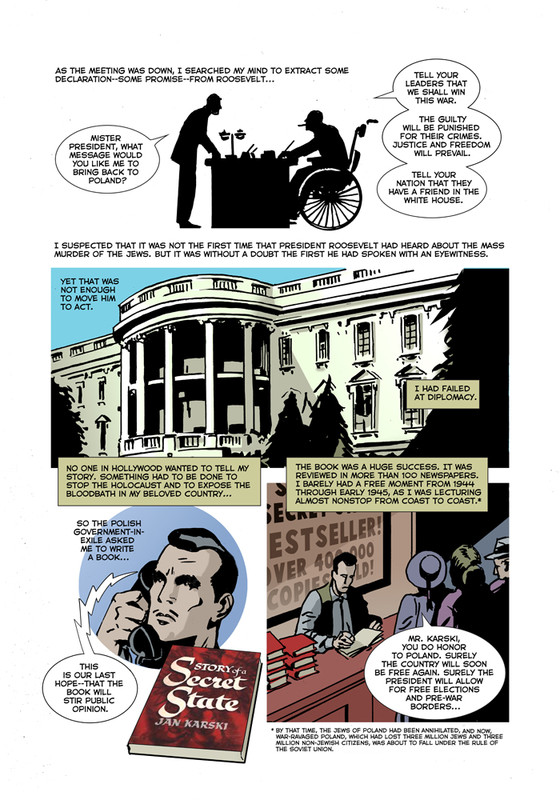 Panel from the graphic novel showing Karski's conversation with President Roosevelt at the White House (Text: Rafael Medoff; Illustrations: Dean Motter)
The graphic novel Karski's Mission: To Stop the Holocaust, published in 2015 by the Jan Karski Educational Foundation is continuing to impress young readers. Jessica Brosch, a Loyola University Chicago student of the World Masterpieces in Translation class, wrote this inspiring review.
"Jan Karski, born Jan Kozielewski, was a man who evaded death numerous times just to find that his greatest challenge would not be dodging bullets or Soviet officials. Rather, his most back-breaking mission would be simply convincing public officials that the horrors of concentration and death camps were in fact true.
Karski's Mission: To Stop the Holocaust is an attention capturing graphic novel which brings to life the largely ignored Polish resistance against the Third Reich and Soviet powers which threatened the very existence of the Polish Jews. The intense first-person narration and modern comic illustrations leave readers who already obviously know of the outcome of the Second World War still desperate to turn pages and discover if insufferable evil will actually prevail.
Despite the nature of the content, which includes descriptions of ghettos and death camps, the novel avoids the nauseating nature that accompanies most accounts of this horrible time in history. Instead of taking away from the power of the story, this allows the novel to depend less on the intense (but all too true) shock of mass human suffering, and more on the personal struggles of an individual just trying to do his duty for God and country. The lack of a happy ending instills the realization that one individual can only help the masses so much if individuals who hold the true power are not willing to step up and take action.
Overall, the novel's use of simple yet depictive graphics and an easy to follow narrative makes the story memorable, and not because of visual gore or descriptions of terror. Karski's frustration with the powers who refuse to acknowledge the ongoing mass murder of the Polish Jews strikes a chord with readers, and is oddly relatable even in today's day and age. This informative, energetic read is well worth the fleeting period of time one will spend reading it."
Please see more information about the graphic novel in this announcement. To order copies of the graphic novel, please sent e-mail to info@jankarski.net.