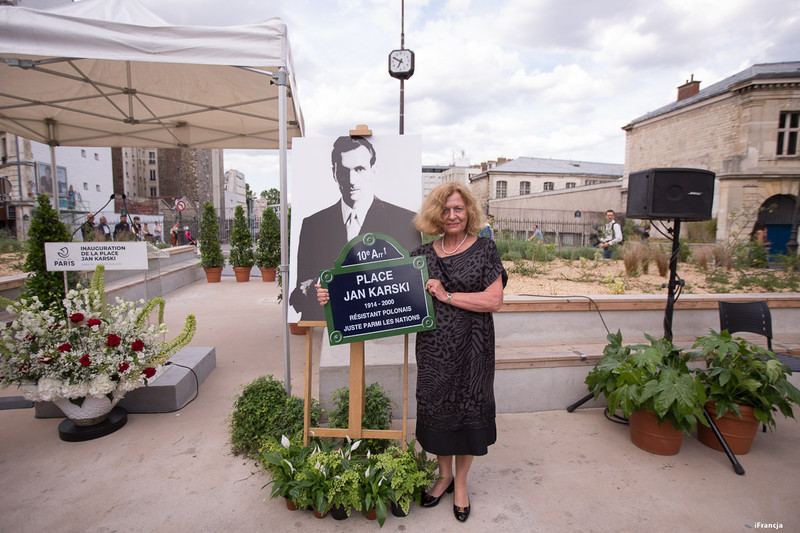 Ewa Junczyk-Ziomecka, President of Fundacja Edukacyjna Jana Karskiego in Warsaw, at the Jan Karski Square in Paris, France (Photo: Rafał Krawczyk)
Paris, France – "Karski's honorable stance during the Second World War, even today, during peaceful times, serves as a moral compass for all of us," said Ewa Junczyk-Ziomecka, President of Fundacja Edukacyjna Jana Karskiego (the Jan Karski Educational Foundation's sister organization in Warsaw, Poland) on June 17, 2019, during a ceremony of honoring Jan Karski by naming one of Paris's beautiful squares after the legendary emissary.
The ceremony included other honorable guests, such as Alexandra Cordebard, Mayor of the 10th District of Paris, Rafał Trzaskowski, Mayor of Warsaw, and Patrick Klugman, Deputy Mayor of Paris in charge of International Affairs
"The fight for dignity and human rights as well as protest against totalitarianism are in the core of the legacy of the courageous courier, who informed the world about the Holocaust," said Mayor Rafal Trzaskowski. "Jan Karski was one of many Poles who have played an important role in Polish-Jewish relations. His devotion to the mission of getting to the truth about the Holocaust and to carrying that truth to Western leaders calls for the highest admiration."
Patrick Klugman—a grandson of Polish Jews who emigrated to France—said that the memory of Polish heroism should not contest with the Jewish memory of the Shoah.
The speakers stressed the futility of Karski's efforts to trigger the reaction of the Western allies to the Holocaust.
The Jan Karski Square is located in the 10th District of Paris, on the intersection of Cali, Louis Blanc, and Philippe de Girard streets. It is closed to traffic and has been recently renovated and adorned with green spaces. The decision to honor Karski was first made in 2015, but it is thanks to the current Ambassador of France to Poland, Pierre Levy, that the plan has finally come to fruition.
Please read President Junczyk-Ziomecka's remarks in full here: jan-karski-square-in-paris-ewa-junczyk-ziomecka-remarks-june-17-2019.pdf.