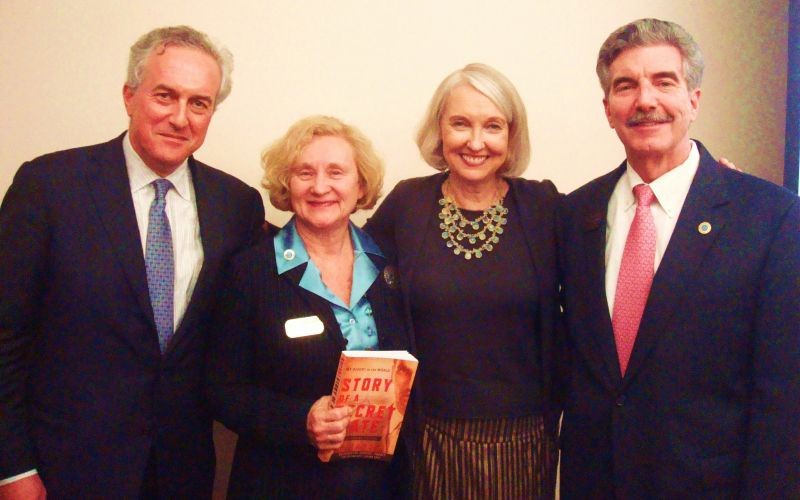 Andrzej Rojek, Sandra Kurtinitis, Wanda Urbanska, Steve Nolan
The Community College of Baltimore County recently hosted a reception for Maryland Holocaust educators that highlighted the legacy of Dr. Jan Karski, while paying tribute to the revival of his legacy, including the Presidential Medal of Freedom conferred by President Obama in May 2012. The program, entitled, "The Legacy of Jan Karski: Courage, Integrity and Humanitarian Action," was opened by CCBC board member Stephen J. Nolan, who introduced College President, Dr. Sandra Kurtinitis. Dr. Kurtinitis spoke about the importance of Karski to today's college students, citing her own study of his legacy decades earlier when she was in college. 
A screening of the trailer, Karski and the Lords of Humanity, a work in progress by filmmaker Slawomir Grunberg, placed Karski in historical context. Andrzej Rojek, Chairman of the Foundation's Board, described the Foundation's remarkable accomplishments to date and presented the first galley copy of the forthcoming edition of Story of a Secret State to Dr. Kurtinitis, quipping that she would doubtless stay up all night reading it. Foundation President Wanda Urbanska outlined the Foundation's educational mission while Dr. Richard Brown, director of the Georgetown University Press, described the Press's commitment to the authorized US edition of Story, which is scheduled for release on March 15. 
Bluma Shapiro, a Holocaust survivor and favorite area speaker, Alice Matsas Garten, vice chair of the the Holocaust Remembrance Commission, and Jeanette Parmigiani, Director of Holocaust Programs for the Baltimore Jewish Council, rounded out the program. Ms. Parmigiani urged educators to include Karski's book in their curricula and invited the Foundation to participate in upcoming programs in Maryland. Ms. Urbanska acknowledged the work of Foundation volunteer Giordiano Chiaruttini in organizing the overflow event.
At the Karski reception: left to right: Andrzej Rojek, Foundation Chairman, CCBC President Sandra Kurtinitis, Foundation President Wanda Urbanska and CCBC Board Member Steve Nolan; Mr. Rojek presents the book to Dr. Kurtinitis; Dr. Kurtinitis enjoys the presentation with Mr. Nolan.