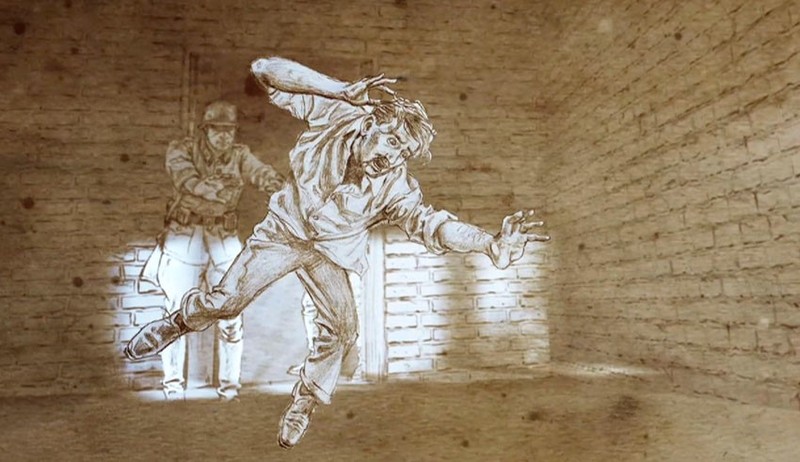 Animated still from the documentary "Karski & The Lords of Humanity" (Courtesy of Sławomir Grünberg )
The Lavr Award 2016, considered the Russian documentary "Oscar," was awarded to Karski & The Lords of Humanity  in the educational category on December 9, in Moscow.
This fascinating documentary by Emmy award filmmaker Sławomir Grünberg has already traveled around the globe, gathering accolades from critics and the audiences. We are presenting a list of awards and award nominations the movie has received since its premiere in 2015:
The Lavr Award – the Russian "Oscar" First Prize in educational category, Moscow, Russia
Grand Prix in documentary category – International Historical & Military Film Festival, Warsaw, Poland
Nomination for the Best Documentary – The Eagles Awards (Polish Film "Oscar"), Poland
Best Polish documentary – "Jewish Motives" at International Film Festival, Warsaw, Poland
It has also been chosen as official selection at the following film festivals:
Boston Jewish Film Festival
International Jewish Film Festival in Australia
Ann Arbor Polish Film Festival
Philadelphia Jewish Film Festival
Westchester Jewish Film Festival
New Jersey Jewish Film Festival
Maine Jewish Film Festival
Buffalo Jewish Film Festival
EKRAN Polish Film Festival in Canada
Polish Film Festival in Rochester
"Two Riversides" Film & Art Festival, Kazimierz, Poland
Jewish Culture Festival, Kraków, Poland
"Cameraimage" International Film Festival, Bydgoszcz, Poland
Combining historical photography and film footage of Karski with animation, the film portrays Karski and his times in a powerful but thoughtful way. Footage from Karski's Shoah appearance reveals Karski's emotion over the events that he had witnessed decades before. Narrated by Karski's biographer Tom Woods, the film presents historical commentaries by British historian Martin Gilbert, who provides context into Churchill's perspective, and Zbigniew Brzezinski, who speaks about his reaction to meeting Karski as a child. Even though Karski had felt that his actions had little impact, it is pointed out that the War Refugee Board was established after his meetings with Western officials, resulting in the saving of about 200,000 Hungarian and Romanian Jews. Animated sequences provide natural transitions between sections of Karski's story in an effective way.
See a selection of articled showing the reaction to the movie by a diverse audience:
http://www.jankarski.net/en/news-and-events/news/success-of-the-karski-documentary-in-russia.html
http://www.jankarski.net/en/news-and-events/news/karski-documentary-moves-and-shakes-chicagoans.html
http://www.jankarski.net/en/news-and-events/news/unforgettable-lesson-of-humanism.html
The Jan Karski Educational Foundation is a co-sponsor of the film's US distribution and is pleased at the reaction of both audiences, award-granting organizations, and critics.
Watch the official trailer of the movie: https://vimeo.com/143351924
Official website: www.jankarski.com
Production Team of Karski & The Lords of Humanity:
Director/Producer/Director of Photography/Co-Writer: Sławomir Grünberg
Writer/Co-Editor: Katka Reszke
Producer: Dariusz Jabłoński
Producer: Violetta Kamińska
Producer: Izabela Wójcik
Co-Writer: Thomas Wood
Sound Design: Tomasz Dukszta
Co-Editor: Matylda Kawka
Director of Animation: Tomek Niedźwiedź