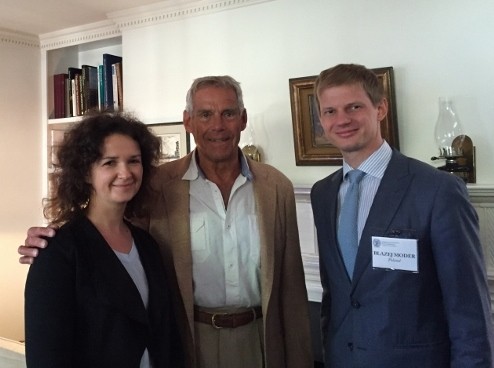 Agnieszka Bieńczyk-Missala, Peter Krogh and Błażej Moder (Photo: Courtesy of Błażej Moder)
The Jan Karski Educational Foundation sponsored two talented scholars and activists, Dr. Agnieszka Bieńczyk-Missala and Mr. Błażej Moder, to participate in the 2016 Georgetown Leadership Seminar (GLS) that was held on October 23-28, 2016, at the Edmund A. Walsh School of Foreign Service at Georgetown University in Washington, DC.
Agnieszka Bieńczyk-Missala, who serves as an assistant professor at the University of Warsaw, where she teaches Human Rights in International Relations, Protection of National Minorities, Poland's Foreign Policy, and Prevention of Mass Atrocities, described the experience at GLS as "one of the most inspiring weeks of [her] life." Here is what she had to say:
"Georgetown University together with its School of Foreign Service is one of the best places to learn about international relations and American foreign policy. All this is due to the proximity of decision-making centers, but especially thanks to the outstanding academic staff. For decades a member of this community was Jan Karski – one of the greatest contemporary heroes of all humankind – a man who tried to prevent the Holocaust. Thanks to the Jan Karski Educational Foundation, which granted me a scholarship, I had the opportunity to experience one of the most interesting and inspiring weeks of my life.  
Participants of Georgetown Leadership Seminar 2016 included officials, politicians, entrepreneurs, social activists, journalists and academics from more than twenty countries. Lectures were given by prominent American specialists who used to be active creators of American foreign policy, such as Thomas R. Pickering, Casimir Yost or Chuck Hagel. Apart from Georgetown University a few lectures were organized at the World Bank headquarters, Cosmos Club and the Embassy of Finland.
Five very intense days of the Seminar were dedicated to debates on various matters, from security, economy to human rights and democracy. Talks between such diverse participants were very interesting and gave us the opportunity to look at the discussed problems from different perspectives.
The Seminar was held just before the American presidential election. In this context, the participants were supposed to complete a very interesting task. They were asked to write a memorandum for the American president-elect including a diagnosis of the current threats for the security of the United States. Many of them referred to Russian politics and cyberterrorism.
My stay at Georgetown University was a perfect occasion to broaden my knowledge on the current American foreign policy and international relations, as well as to meet many interesting people, both among participants and speakers of the Seminar. The discussions were moderated in a way that encouraged active participation. Meeting the experts made us realize that each and every participant is able to influence the flow of events. The Seminar at Georgetown University was an exceptional inspiration for my further activity, as well as for taking up initiatives of high priority."
Błażej Moder, a graduate of the Political Science and International Relations Department at the University of Łódź, felt privileged and honored to have an opportunity to take part in what he described as "an unforgettable experience" and shared his thoughts with us:
"The seminar, which is a by invitation only, brings some 25-35 emerging leaders to the School of Foreign Service for a week of seminars and discussions on major foreign policy issues. What a fantastic agenda was prepared for my group in 2016. We had a privilege to discuss issues such as making foreign policy, global politics, international economy and energy, and human security, with top foreign policy professors and experts in the world such as Ambassador Thomas R. Pickering, Secretary Chuck Hagel or His Royal Highness Prince Turki Al Faisal bin Abdul Aziz Al Saud. 
We had a chance to understand how intelligence data is presented to the President of the United States by the National Intelligence Council, or how to write a memorandum to the President. For me, the most interesting lecture was presented by Dr Mark Busch, professor of International Business and Diplomacy. Professor Busch presented an extremely interesting data regarding globalization and international trade.
Apart from the regular lectures and discussions, we had a pleasure to visit a former Dean of School of Foreign Service Peter Krogh. Professor Krogh is one of the founders of the Georgetown Leadership Seminar and he was a close friend of Jan Karski. He hosted our group for lunch in his beautiful house in Georgetown and gave as an interesting lecture about the history of the seminar.
But Georgetown Leadership Seminar is not only about historical venue and intriguing lectures. It is mostly about people who you meet during this seminar – an inspiring group of leaders from throughout the world, who want to learn how to deal with everyday global challenges. As far as I know, there is hardly any other place where you can spend hours discussing international politics with a journalist from Iraq, a civil society activist from Ukraine, an ambassador from Finland, a deputy minister from Afghanistan or an advisor to the King of Jordan. The scope of activities of the fellows, their knowledge, passion and courage were one of the most important things that I have observed in my life. They helped me to understand so many issues and taught me how to look at the situations in their countries. I truly believe that many of those friendships will last for a long time.
GLS 2016 was an amazing and unforgettable experience, one of the most interesting ones in my life. I'm deeply grateful to the Jan Karski Educational Foundation for enabling me to take part in it."
See the two participants' profiles here. Read Dr. Agnieszka Bieńczyk-Missala's winning essay about Karski: against-evil-and-indifference.pdf.
Founded in 1982, the Georgetown Leadership Seminar is the premier executive education program at Georgetown's School of Foreign Service, bringing rising leaders from around the world to the campus for a week of intensive discussion on major international issues. The GLS vision is to promote dialogue on global affairs among individuals who will help shape the future of their organizations and countries. Read more here.
Photos: Courtesy of Agnieszka Bieńczyk-Missala and Błażej Moder