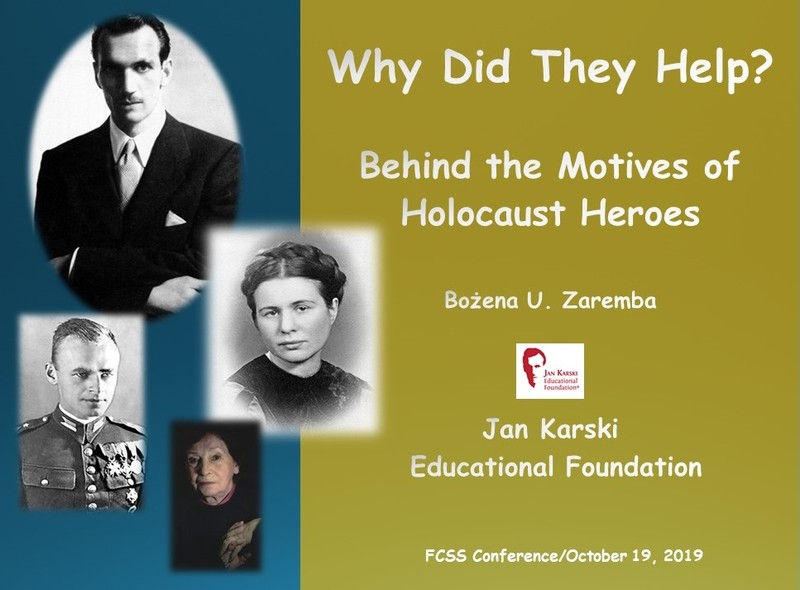 Opening slide of the presentation about Jan Karski given by the JKEF at the 2019 Florida Council for the Social Studies Conference
The annual 2019 Florida Council for the Social Studies Conference took place from October 18-20 in Orlando, FL, and gathered dozens of K-12 teachers and academic instructors, as well as students attending Florida universities who want to pursue their career in teaching. The Jan Karski story was a perfect subject matter for this year's conference as its central theme was "Heroes and Villains." The Jan Karski Educational Foundation was present at the event (for the third year in a row) with a presentation about his legacy and a display of educational materials to share with the participants.
The conference started with an opening of the Exhibit Hall, where vendors presented course books, while non-profit organizations promoted their missions. The Jan Karski Educational Foundation table attracted a lot of visitors (almost 50 in two days), who had an opportunity to learn about the incredible life of Jan Karski, including his mission to bring his eye-witness report to the West and alert the western leaders about the Holocaust. They were surprised to find out that after WWII, Karski distinguished himself as a Georgetown University teacher and a mentor to many future American politicians and civil servants.
On October 19, the Jan Karski Educational Foundation's Project Manager, Bożena U. Zaremba, gave a presentation "Why Did They Help?" to about 30 teachers and students. She opened the presentation by sharing a story of her aunt, Mirosława Przebindowska-Gruszczyńska, a Righteous Among the Nations, who, together with other family members, hid a Jewish girl in their Krakow apartment during the Nazi occupation in Poland. The girl survived the war, still lives in Israel, and Mrs. Gruszyńska has kept in touch with her for all these years. When Ms. Zaremba recently asked her why she helped, she said that her Catholic upbringing was essential in shaping her values. She considers the commandment "to love your neighbor" to be the most important one—to her, these are not just empty words but needed to be realized in action.
The talk focused on the life and legacy of Jan Karski and utilized the images from the graphic novel Karski's Mission: To Stop the Holocaust. The presentation also featured other brave Poles, who selflessly risked their lives to save the lives of others: Irena Sendler, Witold Pilecki, as well as Jan and Antonina Żabiński. They all shared with Karski the same values—compassion, integrity, courage, and sense of duty—and the same motives resounded in their action. All participants received a free copy of the graphic novel, an informative educational packet about Karski and his times, as well as a list of resources.
A teacher at Gainesville High School, Ms. Michele M. Milinkovic, who attended the presentation, had this comment:
"This year's FCSS Conference was my first ever, and I was incredibly fortunate to be able to attend the presentation on Jan Karski given by Bozena Zaremba. As someone who has passionately taught about the Holocaust every year during my 15-year-long teaching career, I was especially moved by the story of Karski and of Ms. Zaremba's personal connection to others who helped save people during this most horrific and senseless time in our history of humanity. I very much appreciated her focus on those who did so much good during this time as opposed to the light that is always shed on Hitler and the Nazis, and it was a wonderful and very moving presentation that I hope can be made available again to Social Studies conferences in the years to come."
The conference also included a long-established Awards Dinner, during which the Florida Council for the Social Studies recognized teachers and educators for their outstanding work. This year, JKEF's Bożena U. Zaremba was honored with the Agnes Crabtree International Relations Award, which is given to educators who "through their teaching, research or community activities furthers the cause of international and intercultural relations." Ms. Zaremba was recognized for her efforts to promote the legacy of Jan Karski, for bringing "his story to life, and [helping] teachers and students understand the importance of speaking up and trying to do doing something, even when no one listens."  
The Jan Karski Educational Foundation wants to thank the Florida Council for the Social Studies, as well as its President Terry Davila-Alexander and Vice-President Peggy Renihan for organizing yet another stimulating and well-planned conference.