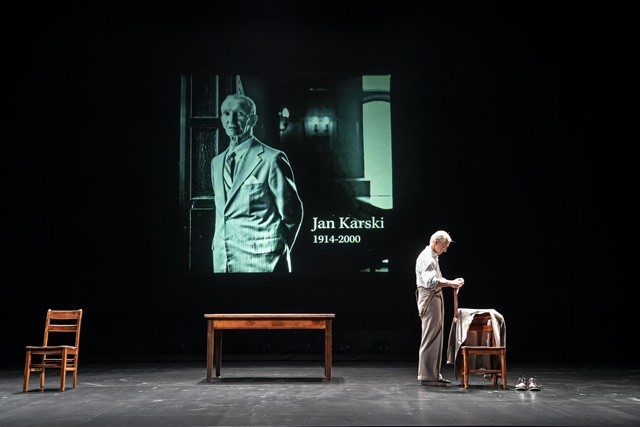 David Strathairn as Karski in Remember This: The Lesson of Jan Karski (Photo: Rich Hein. Photograph of Jan Karski by Carol Harrison, School of Foreign Service, Georgetown University, @ Carol Harrison Fine Art Photography + Design)
"We're reminded how even the humblest and most innocuous people can unwittingly become entangled in the worst of humanity," writes Clinton Stark in one of many excellent, enthusiastic reviews of the play Remember This: The Lesson of Jan Karski, which opened at the Berkeley Repertory Theatre on December 2. It has been seven years since the first version of the play premiered at Georgetown University during the Karski centennial, which, besides the charismatic David Strathairn in the role of Karski, included an ensemble of GU students.
Now, in an extraordinary solo performance, the Oscar-nominated actor, supported by the powerful text by Clark Young and Derek Goldman and the precise direction of Derek Goldman, delivers a message of compassion and civic engagement, which are so relevant in our world today. Following the extremely successful run in Washington, D.C., Chicago, and New York, viewers on the West Coast experienced this compelling performance through December 18.
Please read a selection of recent articles about the show at Berkeley Rep:
StarkInsider
https://www.starkinsider.com/2022/12/remember-this-review-berkeley-rep-play-about-holocaust.html
Patch Berkely, CA
https://patch.com/california/berkeley/strathairn-becomes-quiet-holocaust-hero-remember
Marin Independent Journal
https://www.marinij.com/2022/11/30/david-strathairn-gives-holocaust-testimony-onstage-in-berkeley/
San Francisco Gate
https://www.sfgate.com/news/bayarea/article/Best-Bets-David-Strathairn-Plays-Holocaust-17623527.php
Local Today
https://localtoday.news/ca/critical-time-to-hear-karskis-holocaust-lesson-150760.html
Berkeleyside
https://www.berkeleyside.org/2022/12/05/remember-this-the-lesson-of-jan-karski-berkeley-rep
The Mercury News (may subscription needed to read)
https://www.mercurynews.com/2022/12/05/review-powerful-remember-this-in-berkeley-will-haunt-you-and-it-should/
Theatrius
https://theatrius.com/2022/12/06/remember-this-the-lesson-of-jan-karski-is-unforgettable-at-berkeley-rep/
The Daily Californian
https://dailycal.org/2022/12/09/remember
This production of the play, co-written by Clark Young and Derek Goldman and directed by Derek Goldman, was created by The Laboratory for Global Performance and Politics at Georgetown University and is organized with the support of the Jan Karski Educational Foundation.