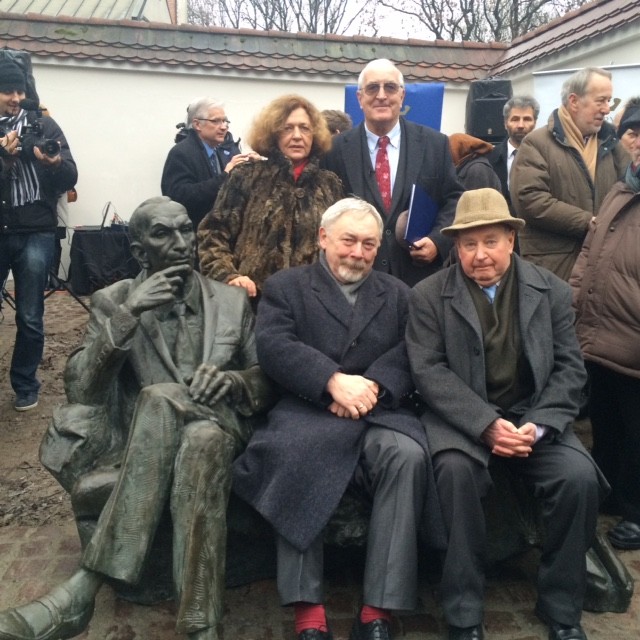 Unveiling of the Karski Bench in Kraków. Front: Jacek Majchrowski and Tadeusz Jakubowicz. Back: Włodzimierz Cimoszewicz, Ewa Junczyk-Ziomecka and Prof. Aleksander Skotnicki
Kraków, Poland – Another monument to Karski, the so-called Karski Bench, was unveiled on January 26 in front of the historic Remuh Synagogue in Kazimierz, a former Jewish district of Kraków.The event gathered many notables, including Jacek Majchrowski, the Mayor of Kraków; Włodzimierz Cimoszewicz, former Prime Minister and former Foreign Minister of Poland; Tadeusz Jakubowicz, head of the city's Jewish community; Ewa Junczyk-Ziomecka, President of Fundacja Edukacyjna Jana Karskiego (FEJK), sister organization of the Jan Karski Educational Foundation; Robert Kostro, Director of the Polish History Museum; as well as those who stood behind the project – Aleksander Skotnicki, Chris Humnicki and representatives of the local Rotary Club.
During the ceremony, President Jacek Majchrowski said that "the bench should not be seen as a monument of Karski himself, but rather a commemoration of an idea, a manifesto showing that Poland is in par with Karski, free of xenophobia, and open to and respectful of other cultures, religions and nationalities." Professor Włodzimierz Cimoszewicz, who personally knew Karski, stressed that people in Poland and around the world still don't know enough about him and that it is our responsibility to honor and promote his legacy.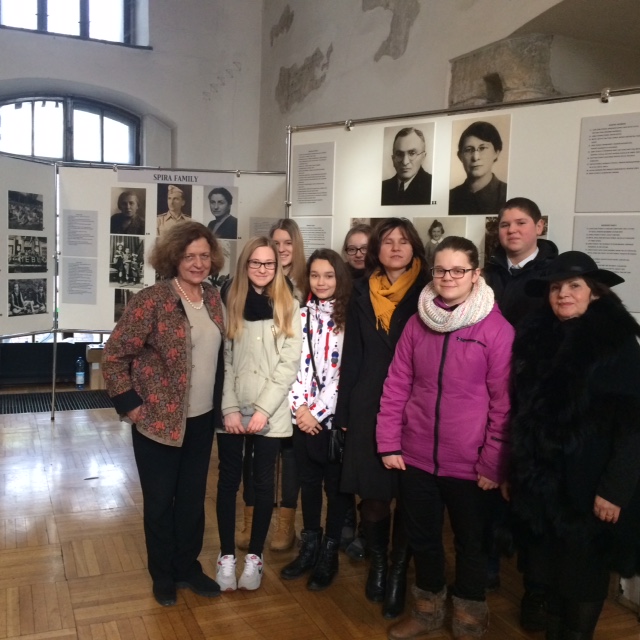 The unveiling of the monument was part of the series of events commemorating the liberation of the German Nazi concentration and extermination camp in Auschwitz-Birkenau. On that occasion, the President of FEJK met earlier with middle school students at the High Synagogue to discuss the Karski legacy. Students were presented with the illustrated story about Karski, Karski's Mission: to Stop the Holocaust, which has been recently published by the Jan Karski Educational Foundation and the Polish History Museum. In another part of the city, the Jagiellonian University's Collegium Novum held an academic session, organized by the Kraków Medical Society and devoted to genocide. It was attended by Bronisława Niusia Horowitz Karakulska, the youngest person on Shindler's list.
After Łódź, Kielce and Warsaw (Poland), New York and Washington (USA) and Tel Aviv (Israel), this is the seventh such bench-style monument erected in honor of Professor Jan Karski, the legendary emissary of the Polish Underground. These benches have all been designed by Karol Badyna, professor at the Academy of Fine Arts in Kraków. Each design is slightly different – some of them show Karski leaning towards a chess board (Karski was an avid chess player); some show him with a crane, and some in a meditating positon with one hand under his chin. Some have an interactive tool, which can help the visitor learn about Karski, and most of them are designed in such a way that a passer-by can sit next to Karski and take a moment to contemplate. The purpose of these monuments is to raise awareness of Karski's life and his legacy.