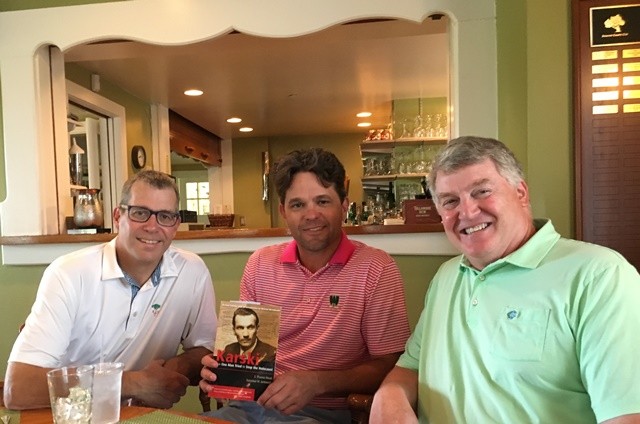 Participants of the book club meeting devoted to Jan Karski: Pete Jackson, Dan Grimsrud, and the host, Andrew LeFevour (Photo: Courtesy of Andrew LeFevour)
St. Paul, Minnesota—On May 23, Andrew LeFevour, Georgetown SFS '84 and a student of Dr. Jan Karski, hosted a book club meeting devoted to Karski. In attendance, there were ten professional men (predominantly lawyers and businessmen) ranging in age from 45-60, most of whom have a Catholic background and attended Catholic schools. They gathered to talk about Karski's biography How One Man Tried to Stop the Holocaust by E. Thomas Wood and Stanislaw M. Jankowski. The story of the famous emissary stimulated a compelling and thoughtful conversation. Following are the comments, reflections, and conclusions which resulted from the discussion, provided by Mr. LeFevour.
1.      What surprised you most about Karski?
"The common response was his ability to keep going and persevere in spite of the conditions and situations that he faced. When confronted with these great challenges, Karski was in his early twenties, yet he carried on and never faltered.  Many of us felt that most human beings would have stopped or given up long before Karski did."
2.      Which of Karski's qualities do you admire most?  Which do you think are missing in today's world?
"Everyone agreed that his selflessness was the most admirable quality. His entire life was an example of putting others before himself. What is more, we thought that in the toughest of times, it shined brighter than ever. He exhibited a moral clarity that never wavered. Several men described him as a Christ-like figure in his qualities and approach to life. A truly inspirational man.
We felt that you rarely see his qualities exhibited by leaders today. On a day-to-day basis, many people exhibit these qualities on a small scale but universally, society lacks the selflessness demonstrated in Karski's life."
3.      What role did Karski's Catholic upbringing and faith play in his underground work, his mission, and after-war activism?
"We believed that his faith development played a critical role in his life. From a young age, it was clear that he respected humanity and did not harbor prejudice. His mother evidently played a significant role in his moral growth as did his faith. We felt that if one hadn't had strong faith, one could not have endured the pain, suffering, and frustration that he faced during the war. We believed that his faith gave him the strength to overcome the norms and prejudice of that time and made it possible for him to help and understand the pain and struggles the Jews endured. 
We discussed the dichotomy of how he carried a blessed host and cyanide (in case he had to commit suicide) at the same time. This had to weigh heavily on his faith. On this same point, we talked extensively about his suicide attempt and how it could have been justified considering his faith. For the majority of us, the suicide attempt was totally consistent with his personality even though it conflicted with his faith. Several compared his sacrifice to the sacrifice of Christ. His suicide attempt was not a selfish but a selfless act. He faced the fear and concern of possibly revealing secrets of the Polish underground and Polish government-in-exile, which obviously could have resulted in the death of many. He placed their lives ahead of his. We thought this is where the power of his character laid—willing to die for others even though it violated his beliefs and faith. We also believed that he needed and relied upon his faith to give him the strength to endure all of his trials. His ability to walk hundreds of miles, his courage to enter the Warsaw Ghetto and the concentration camp, his discipline to keep numerous sensitive secrets, his strength to overcome the strain on his mind and body, and his commitment to stay focused on what the Jews and Poles required to survive are all based and grounded in his commitment to his faith."
4.      Discuss the complexity of the Polish resistance, its role in fighting Nazi Germany and in Karski's mission.
"We found it impressive that Karski was able to segregate all the information during each courier mission. Most of the reports that he needed to deliver supported different if not conflicting agendas. The politics were complex, and he was able to navigate the issues and their complexities. At a young age, he was clearly aware that he would never be trusted if he did not respect the sanctity of the information each group entrusted to him. It was clear that he did not gossip or use the information to gain an advantage. Also, he was committed to helping the Jewish cause although his dedication was at times not consistent with the priorities of the Polish government-in-exile. He carried a great burden as the voice and witness for the resistance and the Jews, that few could have."
5.      Discuss the implications of the western leaders' reaction to Karski's report.
"We felt that Churchill and Roosevelt failed Karski; they failed the Poles and—especially—the Jews of Europe. While it is easy to understand that winning the war was their primary focus, it is equally hard to understand how they could not act after learning the facts. The allies labeled Karski a hero but did not accept his reports as actionable intelligence. We thought that the book and Karski's story illustrate how irrelevant the Poles and post-war Polish government were to the Allies. As early as 1943, Roosevelt, Churchill, and Stalin were already carving up Poland. At the point in his life when Karski learned of how dismissive the allies were of his information, it is understandable that he became depressed and frustrated. 
We also discussed Justice Felix Frankfurter and how he could not accept the truth of Karki's report.  It was hard for us to comprehend the justice's response and how that made Karski feel. He must have been frustrated beyond belief. We thought that the West failed the Poles and the Jews and we believe this was a significant factor in Karski conviction that his mission failed. But we concluded that he did not fail, but that the West failed him."
"We all agreed not to put the book on a shelf but pass it on—Karski's story needs to be told and shared."
 The Jan Karski Educational Foundation contributed the questions.