We are happy to announce the winners of the scholarship funded annually by the Jan Karski Educational Foundation to participate in the Georgetown Leadership Seminar. Monika Korowajczyk-Sujkowska and Wojciech Szkotnicki have been selected to participate in the 2018 edition of GLS, a prestigious program for young leaders from all over the world. The official announcement was made on August 29 in Warsaw during an event promoting the Karski legacy "Inspired by Jan Karski. Latest Stories," which was part of the 15th Singer's Warsaw Festival devoted to Jewish art and culture (see related pictures below). Here are the profiles of the scholarship winners.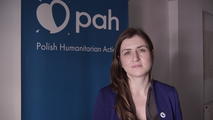 Monika Korowajczyk-Sujkowska is now serving as the director of Humanitarian and Development Aid Department of Polish Humanitarian Action (PAH). PAH strives to alleviate the suffering of vulnerable communities during all phases of armed conflicts and other types of humanitarian crises. She is also a member of the Humanitarian Aid Experts Group under the Polish Minister for Humanitarian Aid and Refugees. For five years, she coordinated PAH's foreign missions in South Sudan, Somalia, Syria, Iraq, Ukraine, and Kenya, and supervised the humanitarian aid after an earthquake in Nepal, a typhoon in the Philippines, and floods in the Balkans. In addition, she is a lecturer at the Postgraduate Studies program in Humanitarian Aid at the University of Warsaw.

Wojciech Szkotnicki is a young professional who decided to devote his life to civil service. He graduated from the Wroclaw University's Law, Administration and Economics School and the National School of Public Administration in Warsaw. He is currently working at the Polish Ministry of the Interior and Administration as a Senior Expert, responsible for supervision of the European Project Implementation Center of the Ministry of the Interior and Administration in relation to the Norway Financial Mechanism, Asylum, Migration and Integration Fund and Internal Security Fund. He is also supervising specific projects prepared by the National Police Headquarters, Border Guard, Office for Foreigners, and Internal Security Agency.
The selection process was conducted by Fundacja Edukacyjna Jana Karskiego, JKEF's sister organization in Warsaw. It was based on rigorous professional criteria and included an essay on how Jan Karski's legacy and the values he represents serve the democratic world today. Please read the essays written by Ms. Korowajczyk-Sujkowska and Mr. Szkotnicki:
karski-essay-monika-korowajczyk-sujkowska.pdf
karski-essay-wojciech-szkotnicki.pdf
Founded in 1982, the Georgetown Leadership Seminar is the premier executive education program at Georgetown's School of Foreign Service, where Jan Karski served as a distinguished professor for 40 years. It brings rising leaders from around the world to the campus for a week of intensive discussion on major international issues. The GLS vision is to promote dialogue on global affairs among individuals who will help shape the future of their organizations and countries.
 Photos: Courtesy of Ms. Korowajczyk-Sujkowska and Mr. Szkotnicki.