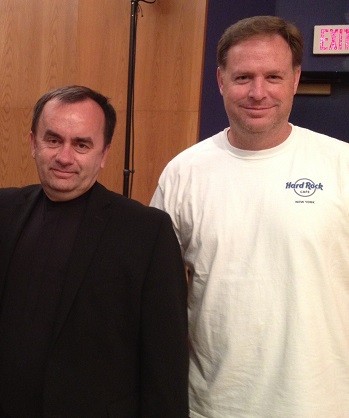 Father Patrick Desbois with participant Dave Barrett
A class of 17 educators received certificates on July 20 from the second annual Jan Karski Institute for Holocaust Studies held on the campus of Georgetown University. Jan Karski Educational Foundation president Wanda Urbanska participated in the intensive, six-day program.

Scholars, religious figures, educators and others offered lectures and hands-on learning during the week on topics ranging from Nazi propaganda to women in the Holocaust to philosemitism. Auschwitz survivor Irene Weiss mesmerized participants with her survivor testimony. Father Patrick Desbois, author of Holocaust by Bullets, briefed the group about his research and discovery of mass grave sites in Eastern Europe and the former Soviet Union.

The class was hosted for special VIP dinners and programs at the Papal Nunciature by Archbishop Carlo Vigano and Cardinal Theodore McGarrick and at the Israeli Embassy by Deputy Ambassador Barukh Binah. Shabbat services were celebrated at Washington Hebrew Congregation - a first for many in the class of mostly Catholic educators. The group visited the US Holocaust Memorial Museum, the Library of Congress and the State Department.

Jan Karski's memory and legacy was invoked throughout the week, with personal recollections by Father Dennis McManus, Institute director, Georgetown professor Robert Lieber and David Friedman, DC Regional Director of the Anti-Defamation League, who recounted his treasured friendship with Karski in a PowerPoint presentation. "The more I knew him, the more heroic he became," he said.

Karski's Story of a Secret State was required reading for the educators, many of whom plan to incorporate him into their lesson plans for history, Holocaust and literature classes.

In addition to Ms. Urbanska, Institute graduates include Brandi Richardson, Christina Smoorenburg, Christopher Murray, Daniel Mahler, Dave Barrett, Donna Tarney, Geoffrey Smith, James Goodspeed, Jan Rogers, Lance Jones, Lisa Nollette, Matthew Sands, Robert Schiller, Rose Thompson, Stephen Barrios and Thomas Trosko.