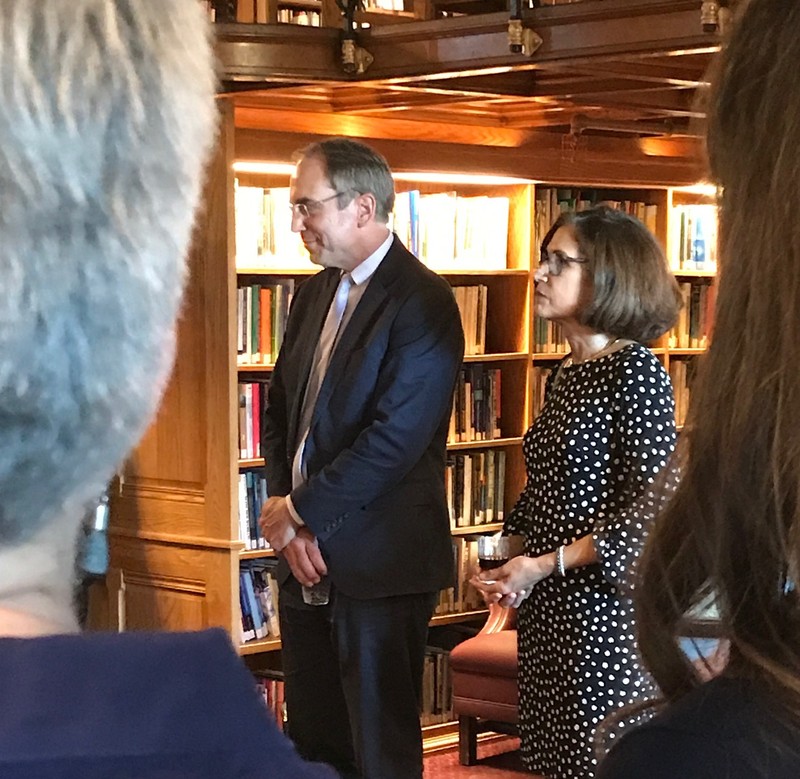 Dr. Richard Brown and his wife, Claudia at the gathering honoring his achievements (Photo: Wanda Urbanska)
Dr. Richard Brown, who played an enormous and instrumental role in the Jan Karski Educational Foundation's work to preserve and scale the legacy of the late Jan Karski, has just stepped down as Director of Georgetown University Press to assume a new position in South Carolina. It was Dr. Brown who accepted and in 2013 masterfully republished for the Press the new US edition of Karski's 1944 classic, Story of a Secret State.
Wanda Urbanska, former President of the Jan Karski Educational Foundation attended a farewell reception along with fellow JKEF publication committee member and former Karski student Giordano Chiaruttini on October 3 at Healy Hall on the Georgetown campus. (Chairman of the JKEF Board of Directors Andrzej Rojek and former Karski student Robert Billingsley also served on the committee.)
Dr. Brown was feted by those present, Ms. Urbanska said, "as man of integrity, vision, generosity and humility. When Dr. Brown spoke about his love of Georgetown, his employees, colleagues, partners – and most especially his wife – there was not a dry eye in the house. All of us who worked with him on the new US edition of Story remember Dr. Brown as a consummate, caring and inclusive leader who threw himself passionately into publishing this remarkable book and with it resurrecting a too-often-forgotten piece of world history." Ms. Urbanska praised Dr. Brown for his manifold contributions to the publication, including securing a foreword to the book by Karski's Georgetown colleague, Madeleine Albright. He also worked extensively to update, illustrate and contextualize this enormously important work.
"Publishing a new edition of Jan Karski's Story of a Secret State was one of the great highlights of my time at Georgetown," said Dr. Brown.
During his tenure at the Press (2001–2017), Dr. Brown led the publishing house to achieve record revenues and double the size of the staff, while bringing it from the smallest category of university presses to its current medium size. Together with his colleagues, Dr. Brown was honored with an Amicus Poloniae award by the Polish Foreign Ministry at the Polish Embassy in Washington DC in December 2014 for the publication of Karski's Story of a Secret State. Dr. Brown begins his new position as Director of the University of South Carolina Press in Columbia on October 16. We, at the Jan Karski Educational Foundation wish him all the best in his new job.