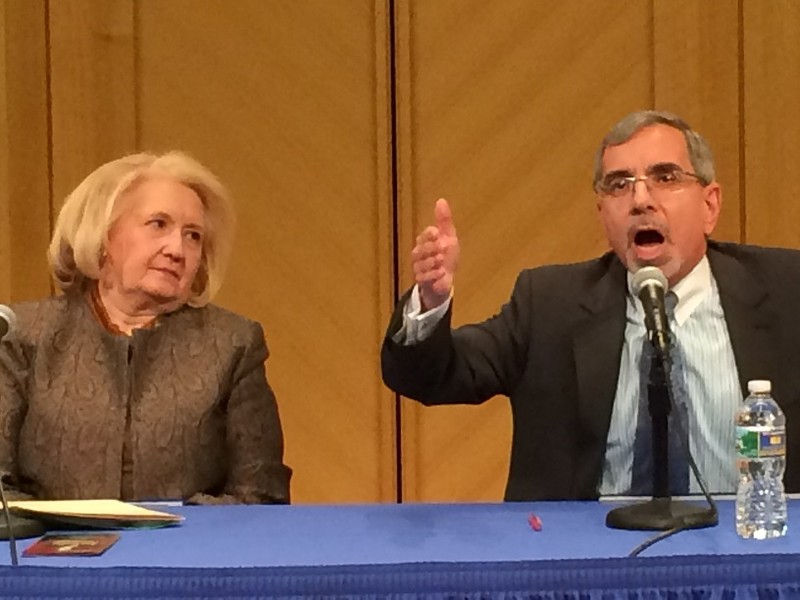 Panelists Ambassador Melanne Verveer with Professor Anthony Arend (photo: Jane Robbins)
Georgetown University, where Karski earned his Ph.D. and taught for 40 years, was the site of a lively panel discussion as a centenary tribute to Jan Karski on April 24, entitled "Responsibility to Protect."          
This diplomatic concept, abbreviated RTP, addresses the past failure of the international community to protect populations against genocide and other crimes. Three panelists, Professor Anthony Arend of Georgetown's Government and Foreign Service department, Visiting Professor Robert Egnell and Ambassador Melanne Verveer of Georgetown's Institute for Women, Peace and Security offered discussion, which was moderated by Acting Dean James Reardon Anderson.
Dean Anderson opened the panel by calling Karski a pioneer of the "responsibility to protect" notion. Professor Egnell first provided historical context, saying that the United Nations was created partly in response to the Holocaust, but that more recent genocides have led to further discussion of what can be done to prevent future crimes against humanity. He pointed to a fine line between the protection of sovereignty of a state and intervention to protect human rights.
Ambassador Verveer opened her remarks by reading an email she received from a former student of Karski, who had attended Karski's Catholic funeral. As part of the service, Holocaust survivors said Kaddish for Karski, a Jewish prayer for the dead that is normally not recited for Gentiles. The student wrote that "I look back at this as one of the most moving occasions of my life."
The Ambassador continued the discussion about RTP by pointing out the necessity to prevent and the obligation to rebuild after a conflict. She talked about women as being strongly affected by sexual violence, which is often used as a strategic tool (e.g. in the Yugoslav Wars) and said that "women have to be seen as equal players" to achieve lasting peace. 
Professor Arend knew Karski on campus as "notable but humble" and then discussed today's conflicts and why the RTP guidelines sometimes preclude action, citing the Syrian civil war and Russia's veto against intervention. He strongly advocated for creating a new international law.
After the discussion, audience members were invited to ask questions and make comments of the panel. Questions about Cambodia, North Korea, Crimea, non-state actors, Syria and refugee rights were put forward. Representative of the Polish Embassy, Minister Maciej Pisarski, Deputy Chief of Mission to the US, ended the session by saying that "Jan Karski was first a Polish diplomat. He challenged himself and is challenging us [Polish diplomats who follow in his footsteps] all the time." 
The symposium discussion was followed by the world premiere of a dramatic reading, Remember This: Walking with Jan Karski, staged at the historic Gaston Hall in the Healy Building. The 75-minute performance, which was beautifully written and adapted by Georgetown professor Derek Goldman and Clark Young and directed by Goldman, starred Academy Award nominee David Strathairn as Karski. He was joined by an ensemble of Georgetown students asking questions of the old man and reenacting key moments from the Polish courier's life. 
Strathairn's remarkable dramatic gifts were on display from the moment he walked on stage. Even without uttering a word, Strathairn channeled Karski. Former students and colleagues of Karski were overwhelmed by the performance. "That was Karski on stage," remarked Gerry Chiaruttini, GU '62. "I didn't know what to expect, but he nailed it." 
Read an exclusive interview with Strathairn about his performance and comments on Karski.