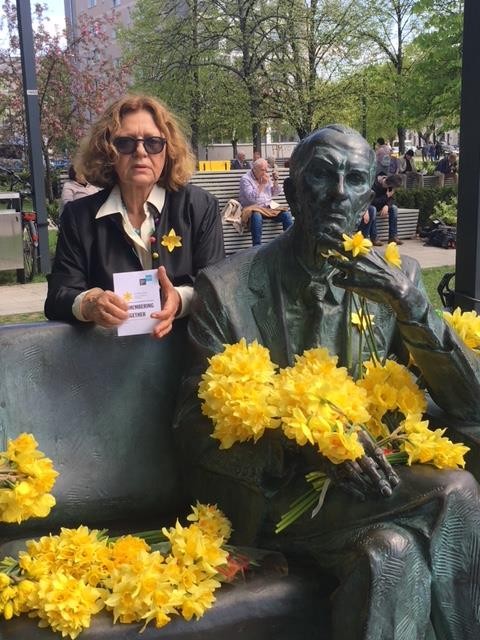 The President of Fundacja Edukacyjna Jana Karskiego, Ewa Junczyk-Ziomecka, pays tribute to Jan Karski and the fighters of the Warsaw Ghetto Uprising on its 75th anniversary. The Jan Karski bench is located next to the entrance to the POLIN Museum in Warsaw and to the monument commemorating the Warsaw Ghetto Uprising. (Photo: Archives of Fundacja Edukacyjna Jana Karskiego)
Warsaw, Poland—On April 19, representatives of Fundacja Edukacyjna Jana Karskiego, Jan Karski Educational Foundation's sister organization in Warsaw, including President Ewa Junczyk-Ziomecka participated in the events commemorating the 75th anniversary of the beginning of Warsaw Ghetto Uprising.
The Warsaw Ghetto, the largest Jewish ghetto in Nazi German-occupied Europe, was built in 1940 and an estimated number of over 400,000 Jews were confined within its walls. In 1942, Jan Karski infiltrated the Warsaw Ghetto twice to bear witness to the deprivation, starvation, and mistreatment of the Jews, and eventually to report to the Western leaders on what he had seen.
On April 19, 1943, three years after the Warsaw Ghetto was built, an uprising organized by the Jewish resistance broke out. This was in response to the plan to liquidate the Ghetto. When the Jews refused to surrender, the SS leaders ordered the systematic burning of the Ghetto, which ended on May 16. Approximately 13,000 Jews died during the revolt; the rest were either killed on the spot or transported to death camps.
In his speech during the commemoration of the 75th anniversary of the Warsaw Ghetto Uprising, the Chairman of the World Jewish Congress, Ronald S. Lauder said that "There were people throughout Europe and Poland who risked their lives to save Jewish families, and there were also people who deceived Jewish families and betrayed them; these are facts that we cannot forget about." At the same time, he appealed for "focus on what unites us—our common history, our friendship, mutual ties and the truth."
"We are here to remember these ties. All Poles fought against the Nazis; Poles of Jewish origin, here—in the Warsaw Ghetto, and later, Polish Catholics in the Warsaw Uprising in 1944," he said. "It's a special bond that nobody can destroy. Everyone gathered here should be inspired by these young warriors when we face the upcoming challenges of our lives, we should draw strength and courage from them; I know that I will."
Please read the letter from Archbishop Metropolitan of Warsaw Kazimierz Nycz and Bishop Romuald Kamiński regarding the commemorations of the anniversary here: letter-from-warsaw-bishops-re-warsaw-ghetto-uprising-anniversary.pdf