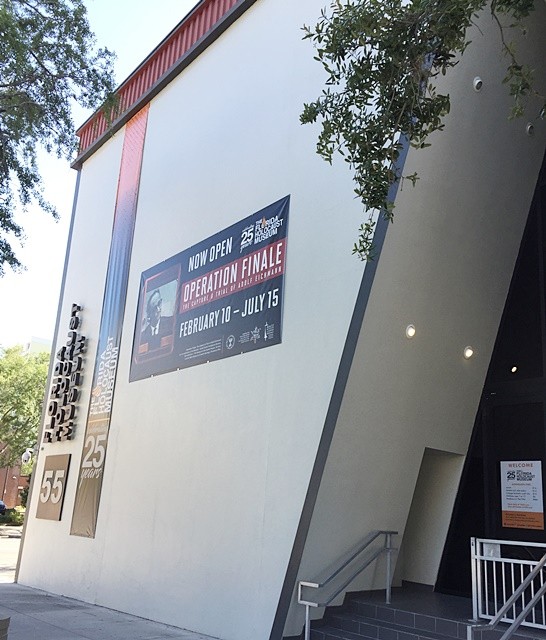 Entrance to the Florida Holocaust Museum in St. Petersburg, FL (Photo: Bożena U. Zaremba)
St. Petersburg, FL—The story of Jan Karski's life, his righteous character, courageous mission, and legacy were the subject of the presentation given by the Jan Karski Educational Foundation on April 18 at the Florida Holocaust Museum in St. Petersburg, FL, to a group of almost 30 Social Studies and English Language teachers from the Tampa area.
A slideshow, which utilized the images from the graphic novel Karski's Mission: To Stop the Holocaust published by JKEF, was presented by JKEF's Project Manager, Bożena U. Zaremba. It focused on Karski's Catholic upbringing in the multicultural city of Łódź, his work for the Polish Underground, the structure of the Polish Secret State, and his most famous, yet most daring and dangerous mission: gathering the eyewitness report about the situation in the Warsaw Ghetto and the transit camp in Izbica and delivering it to the Western leaders. Those leaders included British Foreign Minister Anthony Eden, US Supreme Court Justice Felix Frankfurter, and US President. Franklin D. Roosevelt.
The teachers who attended the presentation had not heard about Karski before and found his story fascinating. They were so inspired that they pledged to share the newly-learned historical background with other teachers and incorporate it into their curriculum. The teachers were pleased to receive helpful materials, including the award-winning graphic novel Karski's Mission: To Stop the Holocaust and an educational packet, as well as a list of additional resources such as the Jan Karski Educational Foundation's website and books by and about Karski. In their feedback, the teachers stressed that the workshop gave them a different perspective on WWII and the Holocaust. They praised the presentation and called it "educational," "fantastic," and "excellent" and called the presenter "knowledgeable and passionate about the subject matter." Here are other comments:
"[Presentation] introduced Karski very well. It's always interesting to learn about people who showed courage."
"I learned there are more upstanders than the ones on our mainstream educational sites. I am really excited to share this with my class."
"I will use this story to teach tolerance and inclusiveness."
The presentation was part of the Teacher Training series, organized and sponsored by the Florida Holocaust Museum. The presentation about Karski was organized in collaboration with the Jan Karski Educational Foundation. Contact the Foundation about doing a similar presentation at info@jankarski.net.