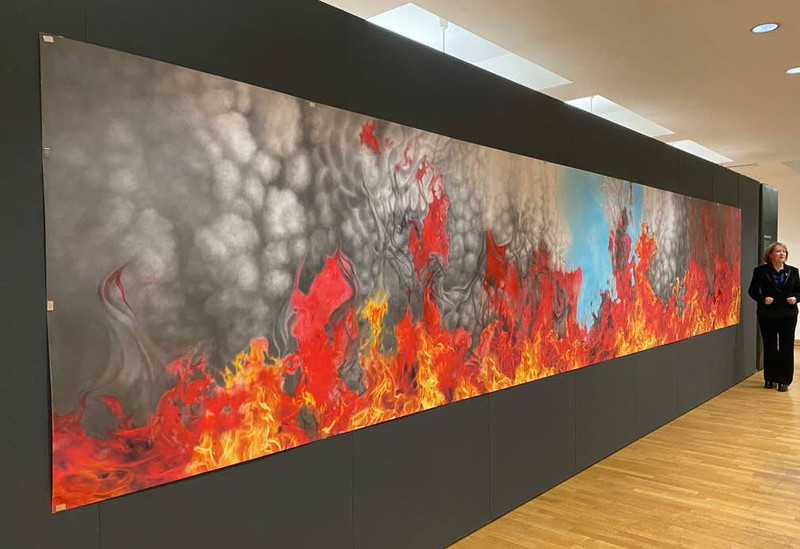 The Polish-American artist, Anna VanMatre, in front of her artwork dedicated to Jan Karski at the exhibition opening at the Center for Persecuted Arts in Solingen, Germany (Photo: Courtesy of the artist)
Polish heroes of the Holocaust are being recognized at the Center for Persecuted Arts in Solingen, Germany, at the exhibition "To Those Who Fight…" by Polish-American artist Anna VanMatre. The exhibition presents fourteen heroes of the Kraków Ghetto who fought against the Nazis during World War II and Jan Karski—a Polish emissary who brought his eye-witness report to Western leaders. Besides the abstract artwork dedicated to Karski, there are also three panels presenting his biography and legacy, created by the artist with the support of the Jan Karski Educational Foundation.
Speaking at the opening ceremony on November 18, 2021, the Museum Director Jürgen Kaumkötter said, "In Poland and in Anglo-Saxon countries, Karski is a hero and a superstar…VanMatre knew Karski personally and described him as a modest person – hard to imagine considering his biography." He expressed hope that VanMatre's exhibition would make Karski better known in Germany.
Other speakers and honored guests included Thilo Schnor, the Mayor of Solingen; Prof. Jürgen Willhelm, Vice-President of Rhineland Landscape Assembly; Sylvia Löhrmann, Chairwoman of Sponsoring Group; and Dr. Maria Anna Potocka, Director of MOCAK Museum of Contemporary Art in Kraków, Poland.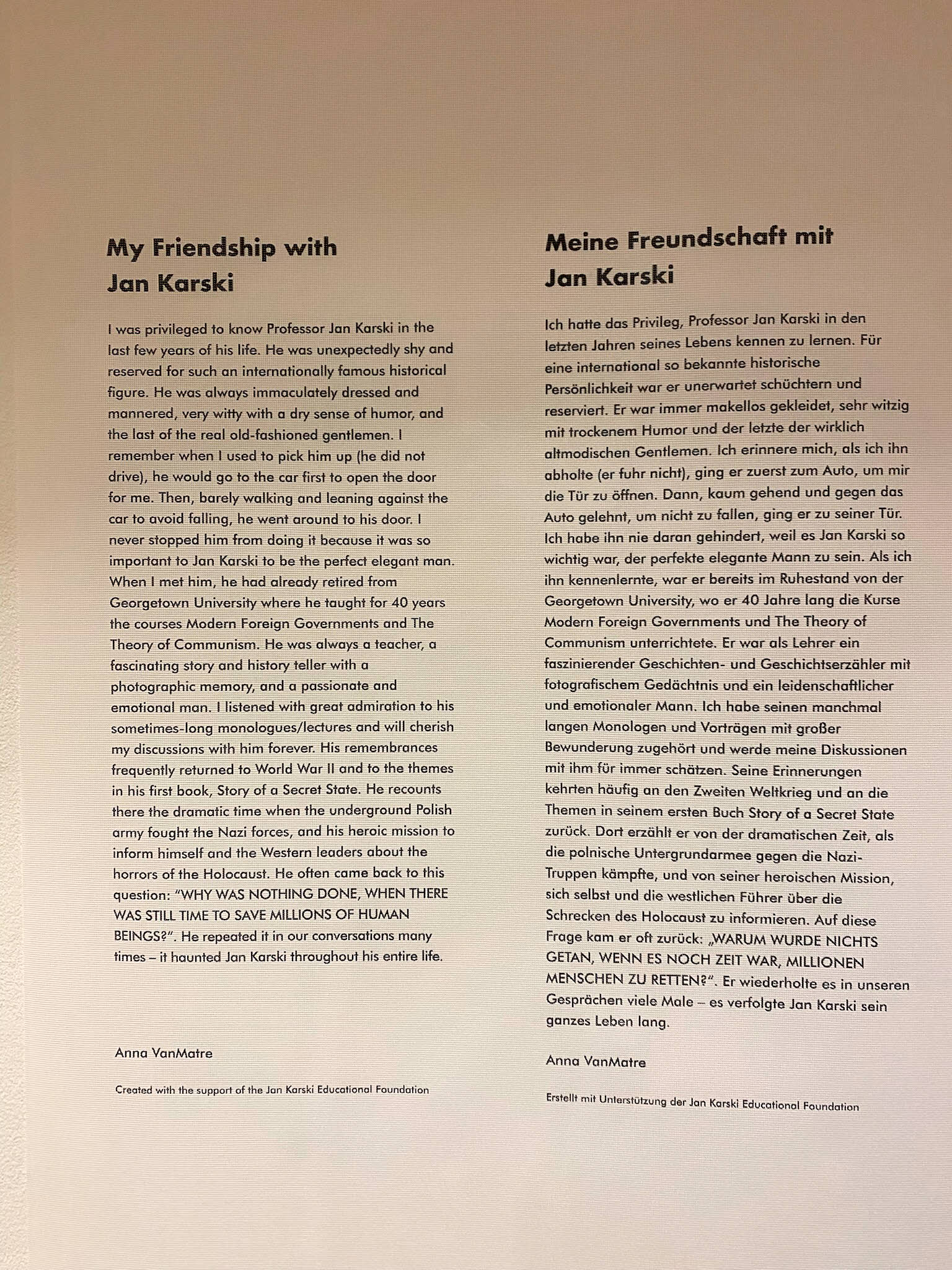 Describing VanMatre's exhibition, the Bergische Kultur wrote: "US artist Anna VanMatre tries to capture the moment when crossing human and moral boundaries leads to racism, extermination, and expulsion…The exhibition…focuses on Jan Karski…who managed to escape and inform the Allies about the Nazi actions." (November 20, 2021)
The exhibition will run through February 13, 2022.
More information about the exhibit from its presentation in Krakow, Poland, in 2020: https://www.jankarski.net/en/news-and-events/news/the-world-needs-to-be-reminded-of-karski-s-warning.html
Please read about Anna VanMatre's friendship with Jan Karski in our interview with the artist from 2018: https://www.jankarski.net/en/news-and-events/news/the-everlasting-dichotomy.html
The artist's website: www.annavanmatre.com
Photos: Courtesy of Anna VanMatre