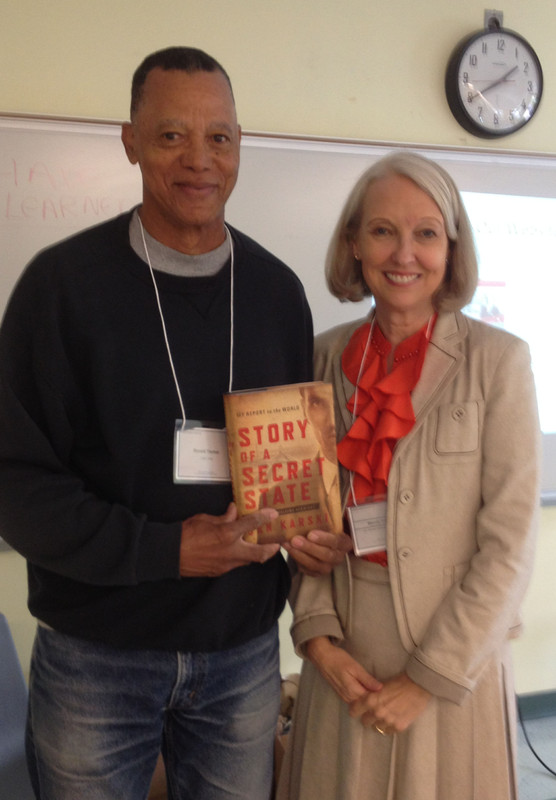 Chicago teacher Ron Thomas with JKEF President Wanda Urbanska
Jan Karski Educational Foundation President Wanda Urbanska gave five presentations to educators on August 12 - 14 on the heroism of Polish Underground emissary Jan Karski during the Holocaust. Venues included the Social Science 3.0 Expo at the John A. Walsh Elementary School on Chicago's South Side and the Illinois Holocaust Museum & Education Center in Skokie. Around 250 Chicago area educators heard Urbanska's call to incorporate the Karski narrative into their Holocaust, World, European and US history curricula. The Foundation presented hardcover copies of the new, US edition of Karski's Story of a Secret State to each educator who attended the workshop presentations.
"As a student of history, Jan Karski's report will be fascinating to read," said Ron Thomas, a 10th grade teacher at Lake View High School. "For my part, your presentation and your generous gift of books... was the high point of the two-day session," Mr. Thomas wrote in a thank you email to Ms. Urbanska. 
In addition to viewing a PowerPoint presentation about Karski's life and significance in world history, teachers were shown a three-minute filmstrip created by the Polish History Museum, the Google Cultural Institute's virtual exhibition on Karski, and were directed to resources on the Foundation's Website Education tab. They also received a bibliography of additional titles relating to Karski and the Polish experience during World War II. Vicki Granacki assisted with the sessions.
In addition to the workshops, on the morning of August 13, Ms. Urbanska participated in a panel discussion on cultural diversity. The central question posed was, "Why should I make the content I teach more relevant to my diverse (cultural) student population?" The Chicago Public School's Social Science Specialist with the Office of Curriculum and Instruction Gary Mcnaney, introduced the session, which was faciliated by the CPS's Monica Swope. Ms. Urbanska joined panelists Pemon Rami representing the DuSable Museum of African American History and Kylia Kummer of the Chicago Children's Museum in this plenary session.
On August 14, Ms. Urbanska made a presentation to 25 educators at the Illinois Holocaust Museum. After the workshop, she had lunch with Rick Hirschhaut, Executive Director of the Museum, and Noreen Brand, Director of Training and Public Programs, to plan a joint museum-foundation celebration of the Karski Centennial in 2014. "Ms. Urbanska's presentation was outstanding," said Ms. Brand. The staff at the Museum were "thrilled" to partner with the foundation, she said, and offer Karski to educators. Later in the week, Ms. Urbanska met with Conrad Nowak, former chairman of the Polish American Association, to discuss partnering with the PAA in the Karski year of 2014.